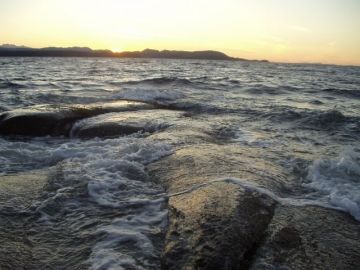 Park Amenities
:




This Gabriola Island park is a popular day use park with a long sandy beach measuring over 1 kilometre long. The beach is decorated with various formations of sandstone and conglomerate rocks. The sandstone rocks shaped by time, winds and ocean.

The Gabriola Island park is a popular gathering spot for many activities. Some of the activities include hiking, beachcombing, birdwatching, kayaking, scuba diving, picnicking and sightseeing.

Sightseeing includes marine activities and wildlife. The Gabriola Passage is a busy marine route so it is common to see boats, sailboats, kayaks and yachts. Just north of the park is the island's marina in Silva Bay.

Drumbeg Park is a birding destination with sea birds and predator birds including eagles, vultures, oyster catchers and herons.

To explore Drumbeg Provincial Park by land there are over 2 kilometres of hiking trails in the park. The trails start from the day use area and explore through a forest of Garry Oak trees while following the shoreline. The trails are well maintained.

It is wise to stay on the trails in any park, especially, Drumbeg Park because the park is home to the Giant Hogweed plant. Touching the plant will result in blisters and burns 2 days after first contact. The hogweed plant is identifiable by the red spots on its thick stems. Stay away.

The underwater reefs near this Gabriola Island park are popular for scuba divers. Rogers Reef is one such popular diving spot.. Some of the marine life in the region include eel grass, mollusks, sponges, worms, seals and rock fish.

The day use park enjoys a picnic area with picnic tables, sitting benches and pit toilets. Nearby is a grass lawn area and an information shelter.

Drumbeg Provincial Park, Gabriola Island, Gulf Islands, BC, Canada
Address:
Drumbeg Provincial Park
How To Get ToDrumbeg Provincial Park
:
How to Get Here:
From the BC Ferry Terminal on Gabriola Island follow South Road. Continue traveling on South Road to Stalker Road. Follow Stalker Rd to the parking lot of the park.
No reviews yet for Drumbeg Provincial Park.