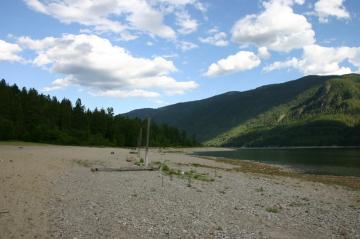 Park Size:
4,417 hectares
Trail Length:
5.9 Kilometers of trails
Difficulty:
Easy - Family
Park Amenities
:







Syringa Provincial Park is a recreation and campground destination on the southeastern shore of Lower Arrow Lake located northwest of the community of Castlegar, BC in British Columbia, Canada.

The Syringa Provincial Park protects a douglas fir forest and one of the few grassland eco systems located in the Kootenay region. First established in 1968 and expanded further in 1995, the grassland park now covers 4,417 hectares. The highlights of the park include a campground, 3 day use areas, hiking trails and access to the waters of Lower Arrow Lake.

The park is a recreation destination popular in the summer months, so popular it enjoys a large 200+ paved parking lot. During the summer months, the activities most enjoyed in the park include camping, swimming, boating, canoeing, hiking, sightseeing, picnicking, and sailing.

There is a large campground and 3 day use areas located in the Syringa Provincial Park. The campground includes a day use area with an adventure playground and sandy beach. Each campsite in the campground includes a picnic table and a fire pit. There are pit toilets and sani station nearby. The campground is connected to the main day use area by a 1.4 kilometre trail.

The main day use area is located on the far end of the provincial park on the shores of Lower Arrow Lake. There is a 250 metre long sandy beach. Above the sandy beach is a grassy knoll and 30 picnic tables. In the corner of the grass lawns, shaded by trees are the change rooms and washrooms.

At the entrance of the grassland provincial park is a double wide paved boat launch, a trailer parking lot and a day use area. In the boat launch day use area are a few picnic tables, pit toilets and access to a 150 metre sandy beach.

The two hiking trails in the Syringa Provincial Park are the Yellow Pine Nature Trail and the Syringa Trail. The Yellow Pine Nature Trail is a 2.6 kilometre loop hiking trial. It should take 1 hour to enjoy. The Syringa Trail is a 3.3 kilometre loop trail. It is an elevation hike also with some steep switchbacks leading to two viewpoints. The hiking trail should take 2 hours to complete. Both trails are loop trails and both trails are connected to each other.

Syringa Provincial Park, Castlegar, BC in the Kootenays of British Columbia, Canada
Address:
Syringa Provincial Park
How To Get ToSyringa Provincial Park
:
How to Get Here:
From Castlegar follow Highway #3a to the Robson turn off. Drive 19 kilometres northwest to the park. There is good signage on the road to the park.
No reviews yet for Syringa Provincial Park.