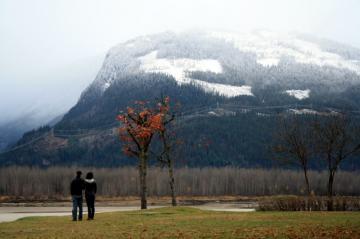 Difficulty:
Easy - Family
Park Amenities
:






River Trail is a community walking path following along the banks of the Columbia and Illecillewaet Rivers in the community of Revelstoke, BC in the Kootenays of British Columbia, Canada. The gravel and paved recreation walkway is also used for biking, jogging, dog walking, rollerblading, picnicking and sightseeing. Along the trail, at various points along the river, are viewing benches and picnic tables.

The Revelstoke River Trail system is a network of smaller trails including the Downtown, Centennial, Illecillewaet and Big Eddy Trails. The trails explore through greenbelts, wetland flats and river estuaries providing views of the community and various river eco systems.

The River Trail acts as a transportation route connecting to recreation parks in the Revelstoke area. Some of the recreation destinations connecting to the River Trail include the Centennial and Woodenhead Parks. There is also a section of the trail that runs along a dike.
How To Get ToRiver Trail
:
How to Get Here:
In the community of Revelstoke there are many access points to various sections of the River Trail. Some of the access points to the trail include:
1. End of Fourth Street and the start of Airport Way Road.
2. End of Edward Street
3. End of Vernon Avenue
4. Corner of Mackenzie Avenue and Eight Street.
5. Columbia River Bridge.

No reviews yet for River Trail.