Cottonwood Park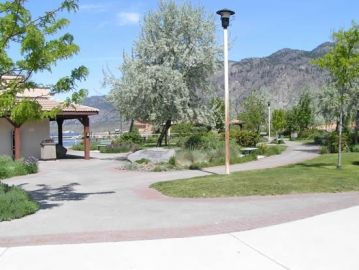 Detailed Description:
Osoyoos, BC Cottonwood Park is a community park developed and created by the l community of Osoyoos, British Columbia, Canada. The park is a well maintained garden destination, with a walkway and viewing benches, overlooking a sandy beach with views of Osoyoos Lake.

The sandy beach, referred to as Cottonwood Beach, is one of the more popular beaches visited in the community every year. During the sunshine months, the beach and the shallow water attracts many people to the shores of the lake for swimming, boating and sunbathing.

And being that the park is within the city limits, the park is very easily accessible by car, foot and bike. But what is really admirable, is that the park was created so to be accessible by all people of all ages and disabilities. The wheelchair friendly pathway, for example, is ramped and paved while the viewing benches provide rest points for the elderly.

The Pioneer Walkway, which runs along the waterfront on Main Street, is close to Cottonwood Park. The walkway follows the shores of the lake and provides access form the park to the stores and accommodations located on Main Street in the downtown core of Osoyoos, BC.

Cottonwood Park, Osoyoos, BC, Okanagan Valley