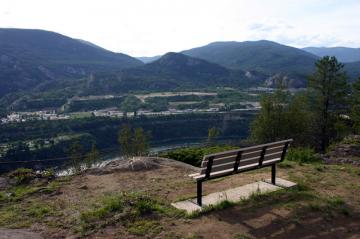 Trail Length:
5-6 kilometre loop trail
Difficulty:
Moderate
Park Amenities
:
Mel DeAnna Trail is an easy grade loop trail located south of the community of Castlegar. BC in the Kootenay region of British Columbia, Canada. The highlights of the wilderness hike is the birdwatching pond, of which, the trail loops around.

Mel DeAnna Trail is a 5-6 kilometre loop trail popular for hiking, picnicking and birdwatching. The hiking trail begins from a pull-out located on Highway #3. The paved highway pull-out also acts as a traveler rest stop, picnic area and viewpoint with views of the Columbia River, the community of Castlegar and the big Highway #3 bridge.

At the south end of the pull out parking area is a grassy knoll and a trailhead. There is also a stone monument dedicated to Mel De Anna " A Friend to Nature" 1979. Also in the corner of the parking lot are some pit toilets for traveler use.

From the monument, follow the trail and climb the wooden steps to the top of the grassy knoll where there are some excellent viewing benches with top views of the Columbia River. Behind the benches, the trail continues to a fence with a gate and the beginning of the Mel DeAnna Trail.

The hiking trail first starts from high up on a rocky ridge. The single track hiking trail then drops quickly into a forest of trees. At about the 1.5 kilometre point on the trail there is a junction - the trail goes right or left. No matter which way you go the trail loops back to the junction.

The loop hiking trail circles Champion Ponds. It is a small pond popular with birds. Along the loop trail that follows the shores of the pond are a few open areas which are ideal for birdwatching. Along the trail is a shelter used as a rest stop and for snack time.

Mel DeAnna Trail, Castlegar, BC in the Kootenays, British Columbia, Canada