11 Top Things To Do on Salt Spring Island,
Gulf Islands, BC, Canada
The Top 11 Things To Do on Salt Spring Island, British Columbia, Canada located on the east coast of Vancouver Island, part of the Gulf Island B.C. Region.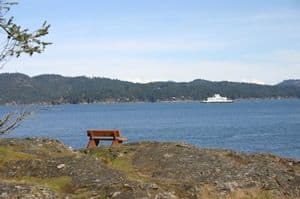 Hiking and Walking. One of the better Southern Gulf Islands for walking and hiking. Many of the hiking trails explore coastlines and some of the trails lead to amazing viewpoints. There are easy to difficult hikes on the island. Some of the highlight hikes include the trails in Mount Maxwell Park and Ruckle Provincial Park.

Ocean Kayaking. Many kayak routes in the region. Salt Spring Island kayaking adventures include exploring islands and islets.Some of the better coves to kayak on Saltspring Island include Booth Bay, Burgoyne Bay, Fulford Harbour and Ganges Harbour. Further out is the newest kayaking route in the Gulf Islands National Marine Park Reserve.
Sailing and Boating. Many islands and islets to explore. There are full service marinas in Ganges and Fulford Harbour.
Market Shopping. The Village of Ganges on Salt Spring Island is the main commercial centre. The village streets are lined with many shops, boutiques, tour companies, restaurants art galleries and stores. Limited parking downtown during the peak months.
Ocean Fishing. The marinas on Salt Spring Island are always busy with fishing boats. Many arrive to fish for Chinook, Pink, Sockeye and Chum Salmon. There are marinas in Ganges and Fulford Harbour. Fishing Charters with guides operate on the island. Must have fishing licence to fish in British Columbia.

Swimming. There are 8 lakes on Salt Spring Island. Many are great swimming holes with picnic sites and parking. Some of the more popular swimming lakes include Stowell Lake, St. Mary Lake or Weston Lake.
Wildlife Viewing: Plenty of opportunity to view wildlife. There are otters, minks, Sea Lions, porpoises and Killer Whales. In the sky are Blue Herons, Sandpipers, Bald Eagles, Oystercatchers and other sea birds.

Beachcombing. There are sandy beaches and rocky headland beaches. Some of the beaches are in parks others are accessed along the coastline of Salt Spring Island. In total there are 27 beach access trails located along the Saltspring Island shoreline.
Road Cycling. The north and south Salt Spring Island roads form two loop routes popular for cycling. Combined the loop routes form the number 8. Cycle route connects to parks and many beach access trails.

Art Tours. Salt Spring Island has many art studios and galleries. Some operate from commercial storefronts and others from a studio in their homes. There are self guided and guided art tours visiting many galleries and studios. Art includes pottery, carving, painting, weavers and sculptors.
Scuba Diving. Salt Spring Island coves, bays, reefs and underwater caves are destinations for many scuba divers. Opportunities for scuba diving and viewing marine life also exists nearby on Mayne, Pender and Galiano Islands.