So, it seems, many are a tad curious to learn more about who is behind the writings, photography, research and development of the eh Canada Adventure Travel. Who wouldn't be, it is a unique travel website.
We are sure you would like to meet our massive writing department, our scores of photographers located around the country and our website creation team. But we cannot introduce you to them because they do not exist. Sorry to disappoint but what you get are two brothers who wear allot of hats.
Colin and Greg Girard are the brother team who created Canada EH Tourism. It was a dream-come-true created from their love of the outdoors and a few loose coins in their pockets. There were no hand outs along the way – no big government grants – no angel investor – no support from local tourismopoly organizations – not even a slush fund to dip into – just guts and determination.
In the beginning there was 1 website marketing Sidney, BC on Vancouver Island on the westcoast of Canada. Today, the Canada EH Travel Network operates travel booking websites throughout British Columbia, Alberta, Saskatchewan, Yukon and Northwest Territories. In total there are just under 20 travel websites operating today.
And… it gets better… the Canada EH Travel Network is expanding across the country into Central, Eastern and Atlantic Canada. All websites include original content and photos. All is self researched by the two brothers and the two brothers only.
The brothers now also share their adventures online on a blog called… what else… the Canada EH Travel Blog. Today, the blog continues to receive many travel blog awards.
Colin Girard, in his previous professional life, worked in the tourism and hospitality industry slaving away for the big man. Now Colin writes his own ticket in life as the computer guru of the Canada EH Travel Network.
Colin's favorite outdoor hobbies and interests include golfing, snowboarding, website creation, hiking, camping and fishing.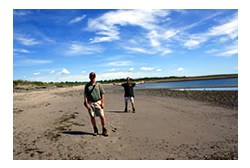 Greg Girard, in his previous professional life, was a cog in the wheels of corporate Canada. He previously worked as a international marketing director for a software and publishing company. Greg researches Canada and writes the websites.
Greg's favorite hobbies and interests include backpacking, hiking, snowboarding, golfing, reading and wilderness photography.
Both brothers are single, happy and travel extensively researching tourism communities and adventures. Both are confident that their positive thinking, great outlook on life and enthusiasm will help them achieve their lofty goals.
To this day the brothers are still researching, writing and building websites, accumulating more bumps and bruises along the way, while rediscovering Canada over and over again.

https://www.ehcanadatravel.com/blog/wp-content/uploads/2012/04/bro.jpg
294
640
Greg "Gug" Girard
https://www.ehcanadatravel.com/blog/wp-content/uploads/2020/01/ehcanada-logo-340x156-1.png
Greg "Gug" Girard
2012-04-06 12:01:05
2017-08-30 11:36:22
About the Brothers Behind Canada EH Tourism