BEST of the WEST SERIES – TOP 6 HISTORIC SITES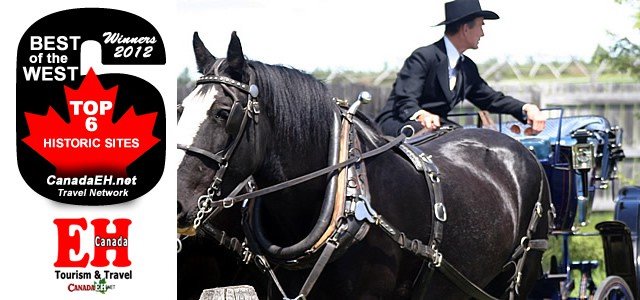 BEST of the WEST SERIES : TOP 6 LISTS for the BEST HISTORIC SITES in British Columbia, Alberta, Saskatchewan, Yukon and NWT Canada based on "Secret Traveler" onsite visits by CANADA eh TOURISM.
Colin & Greg Girard (the founding brothers) of CANADA eh TOURISM are proud to announce the final selections for the Top 6 "Best of the West" Historic Sites. The list includes one selection from each western province and northern territory… plus one bonus selection.
TOP 6 HISTORIC SITES
Before my life altering 360 degree career change – from suit and tie to shorts and hiking boots – my appreciation for history was a bit lacking. I seemed never to grasp an interest in history until my CANADA eh TOURISM days.  I look back at my history lessons in school and I can see why. Many of the classes talked about people and events… important stuff but sometimes long in the tooth – and little attention was paid to informing us that historic sites even existed and could be explored in our own country.
Only if I knew back then what I know now I would of took an interest in history more. If I knew that learning history could be fun and go hand in hand with my need for activity like hiking, backpacking, canoeing, kayaking, boating, caving, scuba diving, horseback riding, dog sledding, etc. History would of looked allot different.
What a difference classes would of been if we knew about the extent of the historic forts, trading posts, trapper cabins, First Nation villages, buffalo jumps, sweat lodges, pioneer settlements, icelandic settlements, shipwreck graveyards, historic trails and heritage rivers here in Canada. As we mature, we appreciate history more and more and the importance to learn from our past.
Here are our TOP 6 favorite historic sites in Western and Northern Canada. Was not easy. Hope you Enjoy!
| | |
| --- | --- |
| | Province of British Columbia : Fort Steele Historic Site located near Cranbrook, BC. Fort Steele Heritage Town is one of the larger heritage town attractions in British Columbia, Canada. And there are many. The big appeal of the Fort Steele Town attraction is that it is like a working town with pioneer actors going about their day, carriages and horses roaming the gravel village streets, the historic buildings – they look so real. LIKENESS FACTORS : historic village, shops, pioneer actors, scenery, lookout tower and activities. |
| | Province of Alberta : Rocky Mountain House National Historic Site located near the community of Rocky Mountain House, Alberta. The Rocky Mountain House Historic Site is Alberta's first National Historic Site.The Rocky Mountain House Historic Site protects and preserves the history, remains, artifacts and memories of the fur trading forts and details the life and struggles of voyageurs like David Thompson and the First Nation people of that time. LIKENESS FACTORS : hiking trails, First Nation village, voyageur artifacts, peacefulness, forts, bison. |
| | Province of Saskatchewan : Grey Owl's Cabin in Prince Albert National Park near the community of Prince Albert, Saskatchewan. Grey Owl's cabin known as "Beaver Lodge" is a historic site located on the shores of Ajawaan Lake in the park. The historic site is the highlight of one of the more popular backpacking trails and canoe routes in the province. Grey Owl was European. He moved to Canada and adopted the First Nation way of living in the wilderness and was an environmentalist for the protection of the beaver. LIKENESS FACTORS : forests, lakes, wilderness scenery, hiking trails, historic site and outdoor activities |
| | Yukon Territories : Robinson Roadhouse Historic Site – The roadhouse was a camp settlement situated on a busy transportation route used by miners. There were many roadhouses in the day along most major transportation routes in the Yukon. The roadhouse was built to service the White Pass & Yukon Route Railway. The railway only reached the summit at the time and the Robinson Roadhouse was responsible for transporting the supplies from the rails end to the shores of Bennett Lake. LIKENESS FACTORS : remote, secluded, authentic buildings, eerie, sightseeing and peaceful. |
| | Northwest Territories : Old Town in Yellowknife, Northwest Territories. Yellowknife started as an outpost on the shores of Slave Lake. Today the old cabins, wooden houses and cottages from the pioneer days still exist and make for a great walking tour. Wildcat Cafe is an old fashion pioneer restaurant first built in 1937 to service the prospectors, trappers and bush pilots. Today , it is a United Nations World Heritage Site. LIKENESS FACTORS : buildings, float planes, sightseeing, scenery, Slave Lake, self walking tour and good food. |
| | eh BONUS HISTORIC SITE : Barkerville Historic Site near Wells, BC. The historic site of Barkerville is a mining town located on the Cariboo Gold Rush Trail made popular in the late 1800s. The discovery of gold by Billy Barker in 1862 attracted many to the region in the hopes of making it rich. Billy Barker is Barkerville. The site is a working village with heritage shops and services and pioneer actors roaming the streets. One of the best destinations for interactivity with pioneer actors. LIKENESS FACTORS : historic buildings, pioneer actors, street activities. |
https://www.ehcanadatravel.com/blog/wp-content/uploads/2012/05/historymain21.jpg
300
640
Greg "Gug" Girard
https://www.ehcanadatravel.com/blog/wp-content/uploads/2020/01/ehcanada-logo-340x156-1.png
Greg "Gug" Girard
2012-05-22 16:39:25
2016-12-29 03:49:49
BEST of the WEST SERIES – TOP 6 HISTORIC SITES