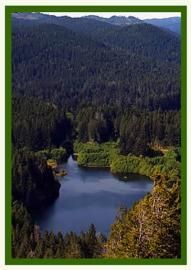 Park Size:
123 hectare (304 acre)
Trail Length:
1.3 kilometre
Difficulty:
Extreme
Park Amenities
:


Mt. Wells Regional Park is located on Vancouver Island near the community of Langford, British Columbia, Canada which is west of Victoria, B.C., Canada. Mt. Wells Regional Park is a 123 hectare (304 acre) forested park destination first established in 1994.

In the park is a 1.3 kilometre one-way ( 0.8 mi.) trail rewarding hikers with summit views (342 metres). It is considered a challenging route with various steep sections. While on the trail be aware of loose rocks and exposed tree roots which can be hazardous. The route should only be attempted by individuals who are in good physical condition.

The Mount Wells Trail begins near the Humpback Reservoir. There is a parking area, out houses and a trail information sign located near the trailhead.

The trail begins by hiking a forest of douglas fir and garry oak trees before climbing out of the trees and onto a barren rock summit. Along the trail route there are 2 areas which open up and provide sightseeing views prior to reaching the summit. Once at the summit there are exposed arbutus trees and, during the spring season, meadows of wildflowers.

Once at the summit take some time to enjoy the wide ranging views of Juan de Fuca Strait, the City of Victoria, the Sooke Hills and the Sea to Sea Green Blue Belt (SSGBB). The SSGBB is a delicate eco system protecting the green space between the Juan de Fuca Strait (west) and the Saanich Inlet (east). The protected area includes the 4100 hectare Sooke Hills Wilderness Regional Park Reserve.



Address:
Mt. Wells Regional Park
How To Get ToMt. Wells Regional Park
:
How to Get Here:
From the City of Victoria travel west on the TCT (Trans Canada Hwy) and take the Sooke Lake Rd exit. When you reach Humpback Road take a left. Just pass Irwin Road , on your right, is the trailhead to the Mount Wells summit.
No reviews yet for Mt. Wells Regional Park.