Leighton Lake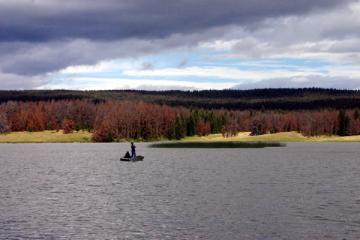 Detailed Description:
Leighton Lake is a high elevation lake within the park boundaries of the Tunkwa Provincial Park which is situated on the Thompson Plateau located north of the community of Logan Lake, British Columbia, Canada. The 55 hectare recreation lake sits at an elevation of 1135 metres surrounded by grassland fields, wetland marshes and pine forests.

The lake is one of the main recreational lakes in the region and is one of the most easily accessed lakes via a paved road. Fishing, canoeing, boating, camping, horseback riding, birdwatching, motor biking, hiking and atving are some of the summer activities most enjoyed in the area.

Leighton Lake is a main destination in the region for fishing. The shallow bays, the 2 small islands and the many mud flats on the lake provide the ideal environment for fly fishing and trolling for trout - some said to be up to 4 lbs. A roof top boat launch in the main parking lot is available.

The lake is also a popular location for birdwatching. Along the shore of the lake, near the parking lot, is a few interpretive signs describing the local wildlife and what to keep an eye out for. Some of the birds to watch for include Canada Geese, Loons, Spotted Sandpipers and Killdeer.

The campground located on the lake provides campsites for, both, tenters and RVs. Each campsite enjoys a fire pit, picnic table and access to the lake. The limited amenities provided by the lake campground include some pit toilets and a boat launch. And many great lake views!

Just after the entrance to Leighton Lake is a gravel parking lot which is one of the staging areas accessing the massive trail system behind the lake. The staging area is a starting point for many who enjoy horseback riding, hiking, motor biking, horseback riding and atving (no 4x4 vehicles permitted).

During the winter, after the snow falls, the trails in the region transform into cross country ski trails, snowshoe and snowmobiling routes. The staging area north of the lake is a starting point for many accessing the extensive Logan Lake Snowmobile Trails operating near Leighton Lake and Tunkwa Lake.
Leighton Lake , Logan Lake, BC, Canada in the Thompson-Shuswap