Face Lake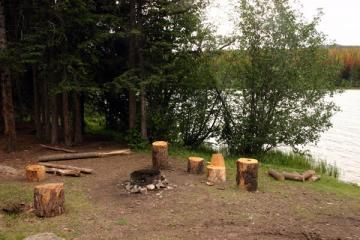 Detailed Description:
Face Lake is a 60 hectare recreation lake tucked away in the remote forests located at the base of Chuwhels Mountain, northeast of the community of Logan Lake, British Columbia, Canada.

It is a remote lake and is best accessed by a rugged gravel road. The journey to the lake is a bumpy ride and should be only attempted by 4x4 vehicles. Once at the lake there is a small wilderness forestry campground and a roof top boat launch. Some campsites have fire pits and few have picnic tables but all have access to a pit toilet in the trees.

The campground is located on the north end of Face Lake. The boat launch is in the campground and provides easy access to the lake for fishing trout. We found that trolling for trout is the best method of fishing on this lake.

Face Lake also attracts others who enjoy the outdoors while canoeing, boating, motor biking, snowmobiling and offroading. The lake is also in the vicinity of the Chuwhels Motorcycle Trail and is part of the Logan Lake Snowmobile Trail System.

Face Lake, Logan Lake, BC, Canada in the Thompson-Shuswap