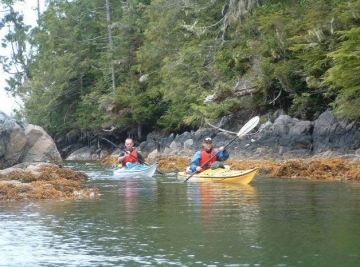 Park Amenities
:
Hardy Island Marine Provincial Park in BC, Canada is located in between the top and lower portion of the Sunshine Coast in Blind Bay. The marine park consists of consists of Musket Island and Hardy Island in Jervis Inlet.

Musket Island is a popular docking point for boaters and as an overnight camping destination for kayakers. The island is an ideal location to sit back and relax watching the Bald Eagles soar and listen to the seals bark in the distance. The island does accompany campers as there are wilderness campsites onsite. Musket Island can be reached by pleasure boats or by kayaks from the launching points located in Saltery Bay, Earls Cove and in Egmont.

The waters around Hardy Island Marine Provincial Park are dangerous as the tides play a big factor for campers and boaters. Boaters and kayakers should stay alert as traffic is heavy in the peak summer months and the depths in some areas only reach 30 to 50 ft. Most boating vessels enter through Blind Bay from Malaspina Channel near the entrance to Jervis Inlet in the west, or from the north via Jervis Inlet through Telescope Passage when approaching Musket.

Many of the long haul boaters on an extended voyage use Hardy Island Marine Provincial Park as a docking point on there way to Princess Louisa Inlet and Desolation Sound Provincial Marine Park.

Hardy Island Marine Provincial Park, Saltery Bay, BC in the Sunshine Coast
ADDRESS
Hardy Island Marine Provincial Park
,