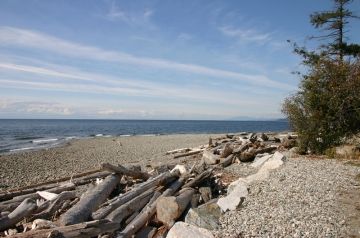 Park Amenities
:




Chaster Park is located in Gibsons on the lower portion of the Sunshine Coast. The area is a popular day use destination for picnics, beach walks and beach combing, especially at low tide. The mainly rocky pebbled beach is ideal for heading off on an adventure as you can follow it for a long way along the coastline. Many find a private spot and relax.

The small park is blessed with plenty of beach access areas. Chaster Park is located at the bottom of Ocean Beach Esplanade. Once at the parking lot the beach area opens up with miles of marine views. The park has a large grassy area with shade provided by trees.

Chaster Park enjoys a scenic drive or walk along the water through arbutus trees to Gospel Rock and to a lookout over the entrance to Gibsons Harbour. The park also has a heritage house, named Chaster House, on the waterfront that is available for rentals and mostly used for weddings, meetings and by associations.

Chaster Park, Gibsons, BC, Sunshine Coast, British Columbia, Canada
How To Get ToChaster Park
:
How to Get Here:
Follow Hwy 101 to Pratt Road. Take a right onto Gower Point Road out of lower Gibsons, follow it until it turns into Ocean Beach Esplanade, and you'll find this park at the bottom.
No reviews yet for Chaster Park.