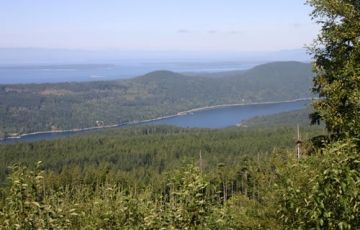 Trail Length:
21 km
Difficulty:
Difficult
Park Amenities
:

Bunster Hills Biking, Hiking & Off Roading Trail, is located near Lund BC on the top portion of the Sunshine Coast. This is a great work-out for bikers, off roaders and hikers offering ocean views of Okeover Inlet, Malaspina Peninsula and the Georgia Strait.

The off roading trail system reaches an elevation of over 750 m (2400 ft.) and on a mountain bike it takes anywhere from 4-6 hours. By 4X4, ATV or Motor Bike it takes 1-2 hours with some breaks.

On foot you can combine the trail with the Rieveley's Pond Trail which is a connector trail on this adventure that cuts the trail in half crossing right down the centre of the loop trail makig the adventure more hiker friendly in distance and time spent. And the trail takes you off the gravel roads and into the forests. Also on the north-west portion off the Bunster Hills Trail is the Okeover Hiking Trail. Bunster Hills also intersects with the Sunshine Coast Trail (SCT).

The Bunster Hills Trail route is marked counterclockwise with biking symbols and orange paint markers leading the way. Entrance is from Wilde Road or Southview Road off Hwy 101 between Lund, BC and Sliammon. From Wilde Road, off road, mountain bike for 12 km (7.2 mi.) climbing gravel roads marked Branch 01 uphill to the Appleton Creek Trail and wilderness campsite (also a SCT campground).Then you head downhill for 6 km (3.5 mi.) turning left at the intersection now following Branch 02. Do not follow Branch 05. Continue on this gravel road for 3 km (1.7 mi.) to the junction in the trail then veer left and continue for 3 km returning to gravel roads and Southview Road connecting back up to Hwy 101.

Bunster Hills hiking, biking, off roading trail, Lund, BC, Sunshine Coast, Canada
Address:
Bunster Hills Activity Trail
How To Get ToBunster Hills Activity Trail
:
How to Get Here:
Follow Hwy 101 north from the Powell River BC Ferry Terminal for about 13 km (8 mi.) and turn right onto Wilde Road and park. Or travel south from Lund, BC and turn left on Southview Road north of Sliammon.
No reviews yet for Bunster Hills Activity Trail.