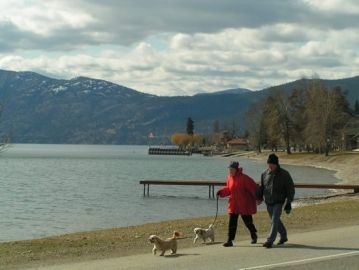 Trail Length:
4.5 kilometre
Difficulty:
Easy - Family
Park Amenities
:


Summerland, B.C. Peach Orchard Loop Trail is a recreation walking path that tours the historic railway lands surrounding the community of Summerland, British Columbia, Canada.

The walking trail follows the shoreline of Okanagan Lake. The 4.5 km Peach Orchard Loop Trail extends from Beaver Road to the Rotary Walkway to Peach Orchard Road. The pathway provides an opportunity to view beautiful yachts and sailing boats moored at the Summerland Yacht Club and the inner workings of a trout hatchery.

Along the trail are many rest stops and viewing areas. Also, when exploring the trail, one can cross two wooden bridges. The upper portion of the Peach Orchard Loop Trail connects with the Gulch Trail near the creek and hatchery.

Peach Orchard Loop Trail, Summerland, B.C., Canada
Address:
Peach Orchard Trail
How To Get ToPeach Orchard Trail
:
How to Get Here:
Travel to the lake shore side of the community of Summerland. Follow the signs to the yacht club or trout hatchery. Trail can be accessed from these two areas or from the Rotary Walkway Park.
No reviews yet for Peach Orchard Trail.