12 Top Things To Do in Surrey, BC, Canada

in the Vancouver Lower Mainland of British Columbia
The Top 12 Things To Do in Surrey, British Columbia, Canada part of the Vancouver Lower Mainland, Fraser Valley B.C. Region.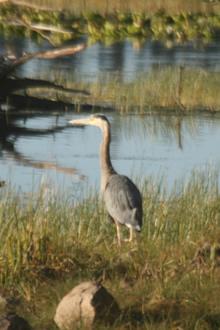 Book a Tour or Guide : Plan a day with a tour company with interpretive guides exploring the oceans and rivers in the Surrey, BC region. Why not sign up for a sightseeing tour or go on a kayaking paddle trip, etc...
Hiking Trails and Tales : There are hiking trails throughout Surrey exploring urban forests, wetlands, bogs, sandy spits, mud flats, lakes, sandy beaches and rivers which lead to lookout towers, viewpoints, playgrounds, nature houses and day use picnic sites. Most are level and suitable for all ages.
Take a Trip down History Lane : Visit with history, heritage sites, museums or plan a historic trip down memory lane with costumed period actors providing interpretive tours at some of the historic sites in the region.
Visit an Attraction : Got some time to visit an attraction? There are some adult and children attractions in the region like a miniature train ride, museum, mini golf, casino, live theatre, movie theatres, art gallery, rodeo, racetrack, historic sites and so much more.
Birding in Nature : There are parks and trails in the Surrey region protecting wetlands, bogs, river eco systems, sandy spits and lakes which attract all kinds of birds like waterfowl, predator birds, marine birds and song birds to the area. There are over 200+ bird species sighted in the Surrey region.
Treat your Palette : The region of Surrey is populated with dine in restaurants, fast food and fine dining establishments. There are North American, Japanese, Korean, Chinese, East Indian and Vietnamese restaurants to pick from.
Take a Beach Day : Visit the swimming and sunbathing parks, sandy beaches and walking trails in the Crescent Beach area of South Surrey, BC. It is a popular destination for walking, beachcombing, sunbathing, swimming, birdwatching and sightseeing.
Shop Till You Drop : Surrey is home to many shopping experiences. There are malls, farm markets, gift boutiques, beach villages, retail stores, big box stores, specialty shops, antique stores, organic foods and craft stores.
Artful Thinking : There are art studios, an art centre and art galleries in the region with paintings, carvings, sculptures and crafts on display and for sale.
Picnic in a Park: Pack a lunch and plan a visit to one of the day use areas in any of the parks in the region. Lots of areas to snack and pack when in Surrey, BC, Canada.
Paddle a Coastline : Bring a kayak or rent one or sign up for a tour... but if you like to paddle then you gotta try exploring the coves, spits and bays located along the coastline of Surrey in Boundary Bay.
Swing a Club : Pack up the clubs and try your luck at one of the local golf courses or driving ranges in Surrey.