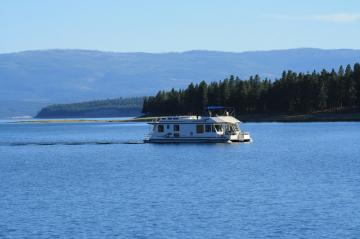 Park Amenities
:







Koocanusa Lake is a 144 kilometre long man made reservoir lake located west of Fernie. The lake is created by the Libby Dam on the Kootenay River located in Montana, U.S.A. The lake is popular for fishing, houseboating, fishing, swimming, boating and kayaking. There are many resorts located on the shores of the lake.

Koocanusa Lake (Koo-Kootenay Can-Canada USA-United States) is named because of its location as the lake falls in both Canada and the USA. 48 miles (77 km) is on the USA side and 42 miles (68 km) on the Canada side in the Province of British Columbia.

The Pacific Northwest National Scenic Trail follows along the east side of the lake before climbing up Webb Mountain. The trail measures XXX kilometres (1200 miles) and strecthes from the Continental Divide in Montana through Idaho, to Washington's Olympic Peninsula. It then explores the Rocky Mountains, Selkirk Mountains, Pasayten Wilderness, North Cascades, Olympic Mountains.

There are over 200 kilmoetres of shoreline on the lake with many sandy beaches. Located along the lake are various campgrounds, residential homes, marinas, and tour and guiding companies. Most popular activities on the lake are houseboating, recreational boating and fishing.

For fishing enthusiasts, Lake Koocanusa provides an opportunity to fish for rainbow trout, kokanee, burbot, whitefish and dolly varden.

Koocanusa Lake, Cranbrook and Fernie, BC, Canada in the Kootenays.
How To Get ToKoocanusa Lake
:
How to Get Here:
Travel east on Hwy 93 from Cranbrook, BC or west on Hwy 3 and 93 from Fernie BC,
No reviews yet for Koocanusa Lake.