Top 8 Things To Do in Alert Bay
Cormorant Island, Northern Gulf Islands
Top 8 Things To Do in Alert Bay on Cormorant Island, Northern Gulf Islands located on the east coast of Vancouver Island, British Columbia, Canada.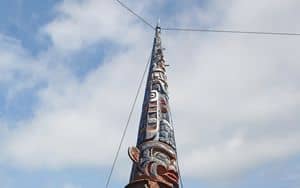 Traditional Big House: The Big House is a large traditional building used for Potlatches. The Big House was first built in 1965 and then was expanded in 1987. During this time a Namgis artist named Doug Cranmer repainted the Big House. But, sadly, in 1997 the traditional building was lost to a fire. In 1999 the Big House was rebuilt keeping with the traditions of the Kwakwaka'wakw First Nation's people.
World's Largest Totem Pole. On Cormorant Island is a 173 foot tall Totem Pole carved by 6 Kwakwaka'wakw First Nation people. Some of the carved figures on the Totem Pole include the Sun Man which is the crest of the Quatsino Tribe; Kolus ( a Thunderbird cousin ) represents the Kwagul Tribe; a whale representing the Gwa'sala'Nakwaxda'xw and others like a bear holding a salmon; a wolf, a raven,a Dzunukwa embracing a copper and much more.
Alert Bay Museum: An assortment of over 6900 pictures depicting the history of Alert Bay on Cormorant Island. There are historical pictures of the Kwakwaka'wakw First Nation's people dating back to the late 1800s.
Whale Watching: Killer Whales, (Orcas) can be seen from Bere Point and surrounding waters. Many Orcas visit Bere Point because it is a popular rubbing rock. Michael Bigg's Ecological Reserve, nearby is a launching point for whale watching and fantastic wildlife viewing. Located at Robson Bight. Also Paul Spong's Orca Lab is a famous marine biologist who studies Killer Whales in the region. Access by boat on Hanson Island. Must book prior to arrival for acceptance on or near premises.
Ocean Fishing: Fish for Salmon, Cod, and/or Halibut. Bring a boat and your gear or sign up for a fishing charter. No boat, no worries, you can fish off the village pier or the municipal dock.
Scuba Diving: Explore off the coast of Cormorant and Malcolm Islands where some of best coral formations and visibility can be found.
Boating and Sailing: So many islands, coves, bays, inlets to explore.
Birdwatching: Seabirds can be observed from the sandy beaches, marina and from the community boardwalk trail. Wander inland and there is an Ecological Park with wetlands. It is an opportunity to view various song birds and predator birds.