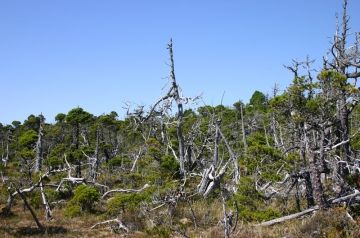 Difficulty:
Easy - Family
Park Amenities
:







The Alert Bay Ecological Park is a birdwatching, hiking and naturalists destination located near the Village of Alert Bay on the northern Gulf Islands of British Columbia,Canada.

Also referred to by the locals as the "Gator Gardens, the hiking path provides a sightseeing tour of the ecological environment on the island. The Alert Bay Ecological Park explores a marsh and forested environment with sections of of the trail crossing over elevated boardwalk therefore protecting the sensitive eco-system.

The marsh was originally created in 1881 by the resurrection of a dam for collecting water for a fish saltery. It continue to operate until 1941 until in 2003 when it was taken down. To this day the water still feeds the marsh providing a safe haven for many species of birding wildlife.

Alert Bay Ecological Park, Cormorant Island, Northern Gulf Islands, BC, Canada
Address:
Alert Bay Ecological Park
How To Get ToAlert Bay Ecological Park
:
How to Get Here:
From the BC Ferry take a right on Fir Street and then a left on Maple Street. At Cedar Street take another left and then a right on Alder. Enter the campground on your left and drive to the picnic area and the trailhead.
No reviews yet for Alert Bay Ecological Park.