Saskatchewan Most Visited Communities – 2014 Traveler's Choice Awards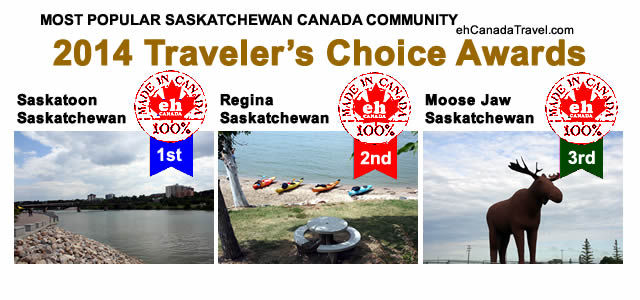 2014 Traveler's Choice Awards
Most Visited/Popular Communities
Back to 2014 Traveler's Choice Award Winners
SASKATCHEWAN, CANADA
Saskatchewan, Canada – sometimes referred to as "The Prairies", ""The Bread Basket of Canada" and "Land of the Living Skies" –  is best known for its grasslands, wetlands, rolling hills, parks, historic sites, adventures and for its massive network of lakes, wetlands, man-made reservoirs and rivers.
The prairie province is a year round travel destination in Canada for some popular activities like golfing, horseback riding, canoeing, birding, fishing, water sports, wind sports, cycling, flightseeing, xc skiing, snowmobiling and the Northern Lights.
Below we have listed the MOST VISITED/POPULAR COMMUNITIES in Saskatchewan, Canada based on the number of online travelers who visited that community in 2013 on our award winning ehCanadaTravel.com website and blog.
2014 TRAVELER'S CHOICE AWARD WINNERS   as selected by OVER 2+ MILLION ONLINE TRAVELERS are:

Saskatoon is a major transportation, agricultural and commercial hub for the central Saskatchewan region. The Meewasin Valley includes parks and trails in the city. The trail measures 60+ kilometres and connects to many of the Saskatoon riverfront parks, promenades, recreation facilities, heritage sites, picnic day use sites, lookouts, attractions and more. During the summer months people enjoy fishing, canoeing, kayaking, horseback riding, biking, cycling, picnicking, swimming, golfing, camping, hiking, hunting, roller blading & birdwatching. During the winter months the winter activities enjoyed in the Saskatoon region include cross country skiing, ice fishing and snowmobiling. 
The City of Regina is the capital city of the province of Saskatchewan, Canada. The community is a transportation, commercial and agricultural centre and an activity destination.

Wascana Park is the main recreation park located throughout Regina and it is one of the largest urban green space parks in Canada. In total there are over 100 green space parks in the Regina region and another 6 large provincial parks located nearby. Just north of the city are two large lakes – Last Mountain Lake and Diefenbaker Lake – both populated by resort communities and sandy beaches.

Moose Jaw, Saskatchewan
Moose Jaw is a recreation destination and a community of unique attractions located on the banks of the Moose Jaw River, Spring Creek and Thunder Creek in Saskatchewan, Canada. The community of Moose Jaw – also known as the "Friendly City" – enjoys a very large urban green space park and a vast community trail system. Nearby, there are large recreation lakes, wetland marshes, sand dunes, sandy beaches & wildlife sanctuaries.
Congratulations to this years most popular communities in Saskatchewan, Canada
from the "eh Team Brothers" and the ehCanadaTravel.com.

ehCanadaTravel.com (eh Canada Travel & Adventure) is the largest booking, planning and researching tourism and travel website for Western and Northern Canada currently expanding into Eastern and Atlantic Canada. The EH Team Brothers (Co Founders) also author the eh Canada Travel Blog which was recently awarded "A Top Canadian Blogger" by FlightNetwork.com.
2014 Traveler's Choice Awards – Saskatchewan
https://www.ehcanadatravel.com/blog/wp-content/uploads/2014/01/best-community-banner2.jpg
300
640
Greg "Gug" Girard
https://www.ehcanadatravel.com/blog/wp-content/uploads/2020/01/ehcanada-logo-340x156-1.png
Greg "Gug" Girard
2014-01-11 13:22:43
2014-03-25 15:50:48
Saskatchewan Most Visited Communities – 2014 Traveler's Choice Awards