For the past few days I have been navigating, exploring and researching along the highways and byways of Calgary, Alberta.  getting my bearings straight. But I am not staying in Calgary as my base camp is in Black Diamond. It is nice being away from the city… a woodpecker and some crickets keep me company. People keep to themselves mostly except when we meet in the washrooms or at the recycle bins. Conversation is light, usually about weather. Luckily the weather has been gorgeous for some time now. Although this is not good news for the farmers.
I have nothing against big cities. They have the finest restaurants, art galleries, museums, attractions and, usually, the biggest events.  One of Calgary's biggest events is coming next week – The Calgery Stampede. I need to be done researching before chaos hits town and traffic comes to a halt.
Myself, I am more of a naturalists. A small town guy. So when in the big city I need to be sharp as my city survival skills are a bit rusty. I work best in parks, forests and on mountains. Put it this way… I smile best in the back country. I just prefer to live in a cement free world. The fast life is for others to enjoy.
So, back to my last few days. I have been busy. In order to get everything done I had to pull early mornings (out the door by 7:30 AM) so to make time to research all the attractions and parks in and around Calgary. I found out there is allot.  My list the last few days included researching the amazing network of trails in Fish Creek Park, the Glenmore Reservoir, the pioneer village in Heritage Park and the Inglewood Bird Sanctuary. Oh yah.. and the River Walkway and Prince's Island Park.
The River Walkway in Calgary follows the Bow River, pretty much, though the community of Calgary. It is really well done and very, very popular. The trail is a constant flow of joggers, mountain bikers, walkers and roller bladders. The main meeting point is on a little island on the Bow River called Prince's Island Park. There is an interpretive trail and beautiful grass lawns, picnic tables, sitting benches and plenty of entertainment. On my visit there was a fiddler, tight rope walkers and some dancing. But mostly, everyone was enjoying the beautiful sunny day.
Another attraction which I enjoyed were the walking only trails in the Inglewood Bird Sanctuary. Maybe it was because there was nobody there.  I took advantage of the moment. It was just me, the birds, the wetlands and some very annoying mosquitoes. In the sun I think they must melt or something. Because they attacked only when in the shade. I wandered in and out of trails limiting any shade time, checking out viewpoints, crossing bridges and taking pictures of birds. Mostly ducks, swifts and seagulls on this day. But still a nice spot. The atmosphere was very soothing.
During my exploring following the River Walkway on the Bow River I came across many groups rafting and kayaking down the river. It looked really refreshing. While I was taking pictures, out of the blue around a bend comes a policeman on a jet ski. I could not believe it. The police patrol the river too. The guy was great. Asked if I was fishing. I said, "No, but what your doing looks like fun." We chuckled and talked some more as he was fighting the current to stay still.  So I took his picture.  That is what I do. He was nice enough to say yes.
See you on the trails eh!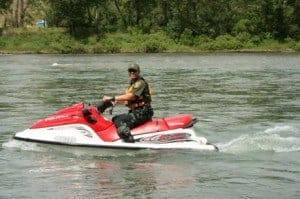 https://www.ehcanadatravel.com/blog/wp-content/uploads/2020/01/ehcanada-logo-340x156-1.png
0
0
Greg "Gug" Girard
https://www.ehcanadatravel.com/blog/wp-content/uploads/2020/01/ehcanada-logo-340x156-1.png
Greg "Gug" Girard
2009-06-28 18:35:08
2009-07-01 23:26:30
Bow River Patrol