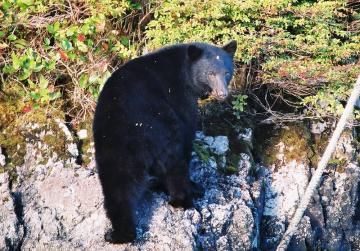 Park Size:
160 hectares
Park Amenities
:


Nitinat River Provincial Park is a another one of those classic rugged wilderness parks we so enjoy. This park is located near the community of Lake Cowichan, Port Alberni and Port Renfrew, BC on Vancouver Island, British Columbia, Canada. The main features of this wilderness park are the Nitinat River from Nitinat Lake.

The Nitinat River Provincial Park is largely undeveloped with little evidence of human tampering. There are no services in this park. No, it is all about you and nature on your own. However, there are some roughed-in hiking trails in the park leading to spectacular waterfalls, spawning pools, sandy beaches and swimming holes. The activities enjoyed on the river in the park include fishing, backpacking, wilderness camping, swimming, picnicking and hiking. The three most visited areas in the park include Nitinat River Falls, Red Rock and the Nitinat River Bridge Swimming Hole.

The 160 hectare park was established to protect the rainforest, riparian habitat and the spawning grounds on the Nitinat River. The forested park consists of mostly Douglas fir and Western hemlock trees and is home to many endangered plant species, most notably, the Scouler's corydalis and the tooth-leaved monkey flower.

Nitinat River Provincial Park is a vital park in the region for the local fish population. Along the Nitinat River is an important section of quiet pools and spawning grounds for steelhead, cutthroat trout, rainbow trout, and coho and chinook salmon. The park is also home to wildlife including black bears, cougars and wolves. It iis also a winter range for roosevelt elk.

There are no developed campgrounds in the park. Wilderness camping is only permitted. All campers are reminded that it is important to pack out what you pack in - leave no trace behind.



Address:
Nitinat River Provincial Park
How To Get ToNitinat River Provincial Park
:
How to Get Here:
The park can be accessed via Port Alberni, Cowichan Lake or Port Renfrew. The park is about 70 kilometres southwest of Lake Cowichan. Nitinat Lake is located via the Nitinat Main and South Main gravel logging roads which are best accessed from the south western end of Cowichan Lake.
No reviews yet for Nitinat River Provincial Park.