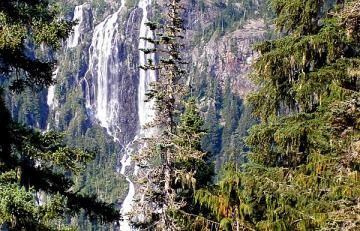 Trail Length:
16 Kilometres
Difficulty:
Difficult
Park Amenities
:



Della Falls Backpacking and Canoeing

Della Falls is a remote wilderness outdoor canoeing and backpacking adventure located west of the community of Port Alberni, BC on Vancouver Island, Canada. The adventure is an epic tale involving canoeing Great Central Lake and then backpacking to Della Falls - Canada's highest waterfall measuring at 440 metres (1443 feet)!

The Della Falls adventure is not for beginners. The one-way route includes paddling a 45 kilometre long lake named Great Central Lake and then backpacking a 16 kilometre long wilderness trail. The adventure can take anywhere from 4 - 8 days. The adventure route was originally an old trapper route created by Joe Drinkwater. Della Falls was named after his wife.

Great Central Lake is no ordenary paddle. The lake is surrounded by high mountain ridges creating a wind tunnel and sometimes, with no warning, the winds can pick up quickly and create rough waters and big cross winds. The paddle leg of the adventure takes 8 to 14 hours to complete depending on your fitness levels. Stay close to the shoreline to avoid winds.

If you prefer not to paddle Great Central Lake there are charter boat services and water taxis available to transport you and your backpacking gear to the trailhead of the Della Falls Trail. It is important to pre arrange and plan your transportation prior to your arrival. Just do not show up because you may be waiting for days.

The Della Falls Trailhead is located at the southeast end of Great Central Lake. There is a rough wooden dock for mooring and a canoe rack located in the trees for overnight storage. At the trailhead there are some tent pads for camping, food caches, trail map sign and pit toilets.

The first major bridge located along the route is at Margaret Creek which is located at about the 7 kilometre point along the trail. From this point to the 10.5 kilometre mark the trail explores mostly through a forest and then into a gorge and across Drinkwater River.

At the 12 kilometre mark the route becomes challenging. This is where you earn your trip to see Della. The trail begins to climb as you explore a rock slide, eventually connecting to the Love Lake Trail at the 15 kilometre mark. The 4 kilometre Love Lake Trail leads into the alpine peaks and provides a great view of the falls. Can you say day trip?

Continue hiking on the Della Falls Trail and you soon break free from the forest cover and walk into a valley of avalanches. Ahead is the base camp for Della Falls. There is a wilderness campground near Drinkwater Creek about 850 metres from the falls. It is here were you set up camp and enjoy the scenery. From base camp there are some rough trails nearby exploring the falls or you can back track and explore Love Lake Trail.



How To Get ToDella Falls
:
How to Get Here:
Travel to the community of Port Alberni, BC on Vancouver Island. From Port Alberni travel another 13.5 kilometres west on Highway #4 to the Sproat Lake exit. Just ahead is Great Central Lake Road. Do not turn on Sproat Lake Road but continue to Great Central Lake Rd and then turn. Once on Great Central Lake Road drive for 8 kilometres to the lake.
No reviews yet for Della Falls.