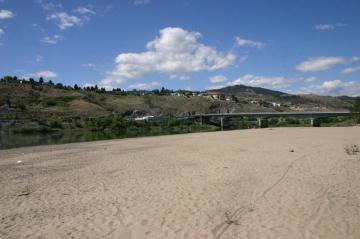 Park Amenities
:


Overlander Park is a sandy beach park located on the Thompson River in the community of Kamloops, British Columbia, Canada. Not only is the beach park on the river, it is at the junction of where the mighty Thompson River splits into two tributaries - the North and South Thompson River.

The Overlander Park grass lawns at the entrance is where you will find the beach volleyball courts and the tennis courts. There is a dirt walking path following the river bank which eventually hooks into the larger 40 kilometre Rivers Trail. A treat of a trail exploring neighborhoods, lakes, rivers, wetlands and more.

In the summer months when the Thompson River is low the sand bar on the point of the park becomes exposed revealing a massive sandy beach. Overlander Park is also a destination to launch a kayak on the Thompson River. Although most use the park for a day of beachcombing, sightseeing and relaxing.

Overlander Park , Kamloops, BC in the Thompson-Shuswap region of British Columbia, Canada
How To Get ToOverlander Park
:
How to Get Here:
Travel west on Victoria Street and look for the signs pointing to the North Shore. From Victoria Street take a right at Fortune Drive and cross the Overlander Bridge. Take a quick right onto Larch Avenue. Take another right on Kitchener Crescent and drive to the park entrance.
No reviews yet for Overlander Park.