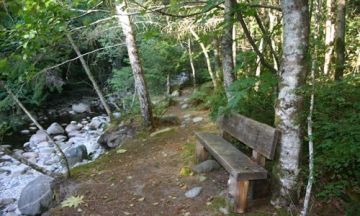 Difficulty:
Moderate
Park Amenities
:

Chapman Creek is a hiking and biking trail located south of Sechelt, BC in the area of Davis Bay on the lower section of the Sunshine Coast.

It is an moderate grade trail that follows the creek leading to a small waterfall and hatchery. The trail, because it is on the shoulder of the creek, can be muddy at times, so good foot gear is recommended. The middle of the trail has a big hill so there is some uphill hiking, biking involved.

The Chapman Creek Trail should take 1.5 - 2 hours to complete there and back. The trail has some hidden creatures also along the trail that you can look for as you explore the area. In 1996 a local carver created some gnomes and trolls from the dead wood and stumps of the creek area. The art is hidden amongst the forest along the first half of the trail. How many can you spot?

Like many creeks in the area, Chapman Creek is a spawning ground for Chum and Coho Salmon returning home. Pink Salmon are present in August and September. Coho and Chum Salmon arrive in the beginning in October to December. The nearby hatchery is open year round and is responsible for breeding fish stock like Chum, Pink, Coho and Chinook Salmon, as well as, Cutthroat Trout.

Chapman Creek Nature Trail, Sechelt, BC, Canada : Parks & Trails
Address:
Chapman Creek Trail
How To Get ToChapman Creek Trail
:
How to Get Here:
Access to Chapman Creek: Follow Hwy 101 south of the community of Sechelt arriving in Davis Bay. At the bridge in Davis Bay crossing over Chapman Creek is Bookman Park. Here is where the trail begins.
No reviews yet for Chapman Creek Trail.