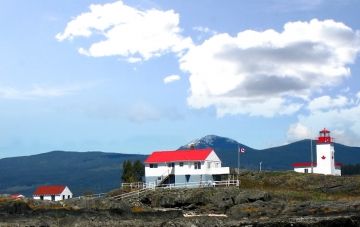 Park Amenities
:

Merry Island Lighthouse is situated on the Strait of Georgia, separating Welcome Pass and Malaspina Straits. Merry Island is located nearest the Sunshine Coast community of Halfmoon Bay, BC, Canada. The island is not open to the public, but many boaters and kayakers stroll by the island to observe a working lighthouse.

Merry Island is comprised of two parts. One section is 17 hectares (42 acres) and is private land. Often, deer will swim to this side of the island from other islands nearby to graze. Bald Eagles make their nests on some of the trees on Merry Island . There are some foot trails on the north side of the island, but it is not open to the public.

The second portion of Merry Island is Canadian Government land that is home to a staffed Canadian Government light station. The Merry Island Lighthouse was established in 1902. The present tower is new and was constructed in 1966. The main tower of the lighthouse is 40 feet high and the red lantern of the lighthouse warns ships every 15 seconds with a flash of light from the beacon in the tower.

Merry Island Lighthouse, Halfmoon Bay, BC, Sunshine Coast Parks, Trails & Places
Address:
Merry Island Lighthouse
How To Get ToMerry Island Lighthouse
:
How to Get Here:
Follow Hwy 101 from Sechelt, BC towards the community of Halfmoon Bay, BC. This is the main departure point. Board a boat or rent a kayak to launch from Halfmoon Bay as the island is boat acccess only.
No reviews yet for Merry Island Lighthouse.