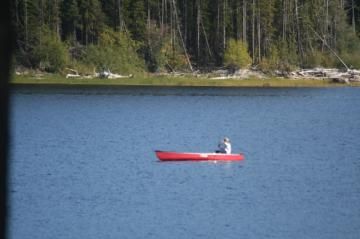 Park Amenities
:



Doreen Lake a small remote fishing, canoeing and boating destination lake located in the back country wilderness forests behind the small community of Winfield, BC in Lake Country. The recreation site is part of a network of lakes in the area.

The network of lakes in the region, all are accessed by a larger network of gravel forest service roads. The same gravel road to Doreen Lake leads to other lakes like Lost Lake, Island Lake, Beaver Lake and Loon Lake.

It is these same gravel roads that become cross country ski, snowmobile and snowshoe routes in the winter months after the snow has fallen. And in the summer atvs and dirt bikes travel the gravel roads deeper into the forest leading to more remote lakes not accessible by a 4x4 vehicle.

The recreation campground is located on the south shores of Doreen Lake. It is a very small campsite operating on a first come first serve basis. The campsites are private and line the shores of Doreen Lake. Each campsite includes picnic tables and fire pits. There are some pit toilets nearby.

The access road into the recreation site is a sliver of a pull out road hidden behind trees next to the lake. The recreation site is a pack in-pack out wilderness campsite. Self maintenance is key, so please be clean and respect each other. Be early for a camping spot.

There is a small roof top boat launch for boats and canoes. Trolling and fly fishing for stocked Rainbow Trout is the goal for most who visit Doreen Lake. In the winter, some arrive at the lake by snowmobile to ice fish.

Be advised there is no real beach area. Some campsites do enjoy lake views and others settle for a peek-a-boo view through trees. The good news is there are plenty of short walking trails leading down to the lake near each campsite. Pitch a chair and enjoy the views.

The access road to the campground is well marked with a road sign. It is a straight through road which hooks up again to the main road. The gravel access road is level and passes right by the campsites and boat launch. Large vehicles may have issues with the rough and narrow gravel access road.

When traveling the gravel roads, always be aware of oncoming vehicles as dust limits visibility and rocks fly. Slow down as many corners are blind corners. Keep your head up for free range cows which sometimes decide to graze on the road. Always have headlights on when traveling the gravel forest service roads during, both, day and night.

Doreen Lake Recreation Site, Winfield, BC in Lake Country
Address:
Doreen Lake Recreation Site
How To Get ToDoreen Lake Recreation Site
:
How to Get Here:
From the highway in Winfield turn east onto Beaver Lake Road. Continue down the gravel road for 16 kilometres (9 mi.) to a resort. Prior to the resort is a gravel road to the left. Take this gravel road over a small narrow wooden bridge. Stay on the main gravel road until you come to a big opening. On your right is a gate and a bridge. Follow this gravel road and start looking for the campground sign on your right.
No reviews yet for Doreen Lake Recreation Site.