White Rock, BC, Adventure & Travel Guide
British Columbia, Canada Travel and Adventure
8+ kilometre white sandy beaches
White Rock, BC, Canada is a beach community named after a large 486 ton white boulder left behind from the ice age. Today... the community is best known for its 8+ kilometre white sandy beaches, promenade waterfront walkway and a 1500 foot historic fishing pier. Looking south, White Rock peers out over Semiahmoo Bay in the Strait of Georgia. Further south, in the Strait of Georgia, are the Southern Gulf Islands and the southern tip of Vancouver island. And on the horizon one can see Mount Baker in the state of Washington, USA.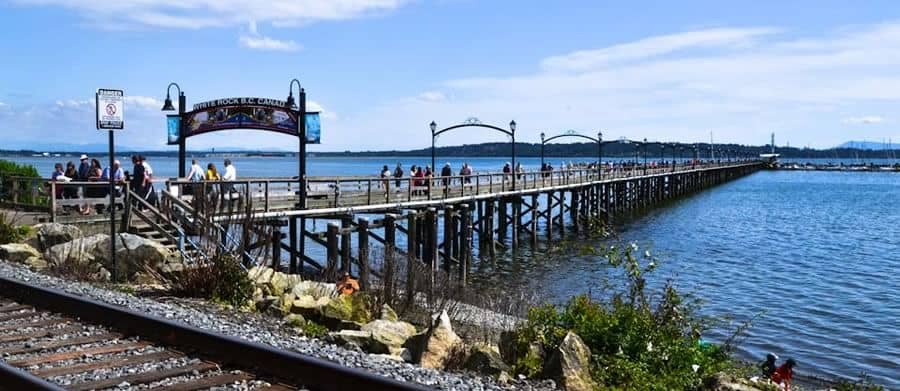 Best Things To Do, Adventures, Activities in and around White Rock, British Columbia
Top attractions, adventures and activities most enjoyed in and around White Rock, BC, Canada and the surrounding areas are golfing, swimming, sightseeing, ocean kayaking, boating, sailing, birdwatching, walking, rollerblading, beachcombing, wildlife watching tours, SUP, picnicking, fishing and sunbathing.
Best Parks, Trails, & Places to explore in White Rock, British Columbia
A few of the more popular, some would say best, activity destinations located in and around White Rock, British Columbia includes the Lions Lookout Park, White Rock Pier, Peace Arch Provincial Park, Centennial Park and two beaches (East Beach and West Beach). The sandy beaches measures over 8+ kilometres long and are complimented by a 2+ kilometre promenade pathway which follows the shoreline of the beach providing great views and access.
What are the Accommodations, Services and Amenities in White Rock, BC?
White Rock places to stay, services and amenities important to travelers include accommodations (resorts, hotels, motels, inns, bed and breakfasts (B&Bs), vacation homes, cottages, cabins, lodges), campgrounds, tours, guides, attractions, restaurants, laundromat, coffee shops, wineries, spas, grocery stores, pubs, liquor store, banks, gas station, gift stores, and internet service.
Best White Rock, BC Museums, Historic Sites, Art Galleries & Cultural Venues
Best White Rock, BC history, entertainment, culture and art venues includes the White Rock Museum & Archives, and the White Rock Totem Poles.
How Do I Get To White Rock British Columbia?
Transportation services getting to and from White Rock, British Columbia include the main highway of course (Highway #99), and then there is taxi, bus, car rental, marina, rail, and the (YVR) White Rock International Airport (33 minute drive - 45 kms) and the BC Ferries Tsawwassen Terminal (32 minute drive - 40 kms) and Horseshoe Bay Terminal (59 minute drive - 68 kms).
Best of White Rock BC, Canada
eh! Plan to Visit White Rock BC today.