New Westminster, BC, Adventure & Travel Guide
British Columbia, Canada Travel and Adventure
On the banks of the Fraser River
New Westminster, BC, Canada is located on the Burrard Peninsula resting on the banks of the Fraser River in Metro Vancouver (Vancouver Lower Mainland). New Westminster is situated at the mouth of the Fraser River where the river branches out forming the North and South Arm exposing the Fraser River Estuary. In the far distance, complimenting the Vancouver skyline, are the looming peaks of the Golden Ears Mountains.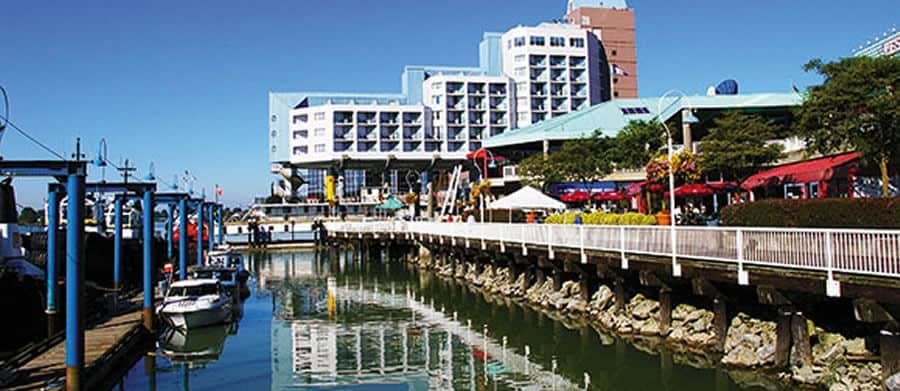 Best Things To Do, Adventures, Activities in and around New Westminster, British Columbia
Top attractions, adventures and activities most enjoyed in and around New Westminster, BC, Canada and the surrounding areas are boating, sailing, kayaking, canoeing, birdwatching, picnicking, golfing, fishing, swimming, hiking, biking and sightseeing tours.
Best Parks, Trails, & Places to explore in New Westminster, British Columbia
There are over 50+ parks, green space areas and trail systems in the City of New Westminster, BC, Canada. Some of the more popular parks and trails include the 711 Bike Path, Glenbrook Ravine Park, Grimston Park, Hume Park, Moody Park, Queen's Park, Sapperton Landing Park and the Westminster Quay Waterfront Esplanade
What are the Accommodations, Services and Amenities in New Westminster, BC?
New Westminster places to stay, services and amenities important to travelers include accommodations ( hotels, motels, inns, bed and breakfasts (B&Bs), vacation homes, hostels), tours, guides, attractions, big box stores, nightclubs, restaurants, laundromat, coffee shops, casino, spas, grocery stores, pubs, liquor store, banks, gas station, gift stores, and internet service.
Best New Westminster, BC Museums, Historic Sites, Art Galleries & Cultural Venues
The community cherishes, develops and protects its historical and cultural past and present. To date there are said to be over 60+ protected historical sites including the Old Court House, City Hall, the Armoury, the CPR Station, the Burr Block/Queens Hotel, and the 1865 Irving House. Othe venues to explore are the Samson V Paddle Wheeler, Anvil Centre, Fraser River Discovery Centre, New Westminster Museum & Archives, and the Royal Westminster Regiment Historical Society and Museum.
How Do I Get To New Westminster British Columbia?
Transportation services getting to and from New Westminster, British Columbia include the main highway of course (Highway #91), and then there is taxi, bus, car rental, marina, rail, and the (YVR) Vancouver International Airport (24 minute drive - 26 kms) and the BC Ferries Tsawwassen Terminal (30 minute drive - 37 kms) and Horseshoe Bay Terminal (34 minute drive - 45 kms).
Best of New Westminster BC, Canada
eh! Plan to Visit New Westminster, BC today.