Harrison Hot Springs BC Adventures & Travel Guide
British Columbia Canada Adventures
Places to stay, things to do, activities to plan, parks, lakes and trails to explore in Harrison Hot Springs
Harrison Hot Springs BC Adventures and Travel Guide: This resort community on the shores of Harrison Lake is a beach and adventure destination located in the Fraser Valley east of Vancouver BC. Harrison Hot Springs is part of the Harrison River Valley which includes the communities of Agassiz, Kent and Harrison Mills. The resort area is best known for its world famous hot springs and lake activities.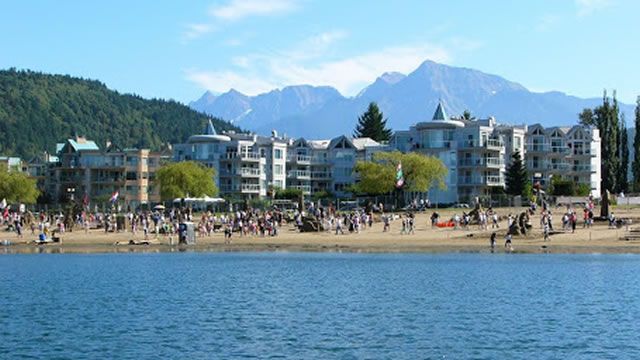 Harrison Hot Springs BC Adventures, Things To Do
The attractions, adventures and activities most enjoyed in and around Harrison Hot Springs, BC, Canada and the surrounding areas of Agassiz, Kent and Harrison Mills are eco tours, boating, sailing, canoeing, water skiing, jet skiing, fishing, off roading, kayaking, mountain biking, hiking, golfing, hot spring experiences, downhill skiing and snowboarding.
Parks, Trails, & Places Of Interest in the Harrison River Valley
The Harrison River Valley region provides many summer and winter activities. However, it is also home to some quality adventure travel destinations including parks, trails, and places of interest. Therefore, some of the more noteable adventure destinations include Harrison Lake, Hot Springs, Kilby Provincial Park, Hicks Lake, Sandy Cove Trail, Harrison Grind, Miami Bridges Walk, Sasquatch Provincial Park, Harrison Beach Promenade and the Bear Mountain Trail.
Place to Stay, Accommodations, Services and Amenities
To enjoy Harrison Hot Springs BC adventures many require a place to stay, services and amenities to complete their visit. The Harrison River Valley travel region provides accommodations (resorts, motels, inns, bed and breakfasts (B&Bs), vacation homes, cottages, cabins), campgrounds, tours, guides, attractions, restaurants, coffee shops, spas, grocery store, pubs, liquor store, bank, gas station, gift stores, and internet service.
Museums, Historic Sites, Art Galleries & Cultural Venues
There are sightseeing attractions, historical sites, entertainment venues, and cultural events in and around Harrison Hot Springs, British Columbia, Canada. Some of the historical attractions and destinations include the Agassiz Harrison Museum, Kilby Historic Site, and the Sasquatch Museum.
Directions To Harrison Hot Springs Adventures and Community
Transportation routes getting to and from Harrison Hot Springs, British Columbia includes the main highway of (Hwy #9). Transportation services includes taxi, bus, car rental, marina, rail, and the (YVR) Vancouver International Airport (1 hour 41 minute drive - 143 kms) and the BC Ferries Tsawwassen Terminal ( 1 hour 31 minute drive - 143 kms) and Horseshoe Bay Terminal (1 hour 39 minute drive - 151 kms).
Harrison Hot Springs BC Canada Adventures and Travel Guide
Harrison River Valley in the Fraser Valley