14 Top Things To Do in Ladner, Delta and Tsawwassen,
Greater Vancouver British Columbia.
The Top 14 Things To Do in Ladner, Delta and Tsawwassen, British Columbia, Canada part of the Lower Mainland, B.C. Region.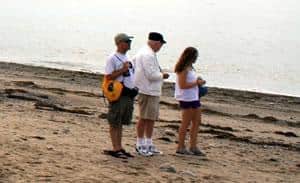 Tours and Guides : Let someone else supply the equipment, transportation, entertainment and do all the talking. Sign up for one of the local tours with interpretive guides in the community of Ladner. They are experienced and knowledgeable and now the region.
Visit an Attraction : Got some time to visit an attraction? There are some adult and children attractions in the region like a go karts, waterslides, museum, golf courses, casino, live theatre, movie theatres, art gallery, historic sites and so much more. [
Birding in Nature : There are parks and trails in the Delta, Tsawwassen, Ladner region protecting wetlands, intertidal marshes, bogs, river estuaries, mud flats, sandy spits and river deltas which attract all kinds of birds like waterfowl, predator birds, marine birds and song birds to the area. There are over 260+ bird species sighted in the Delta, Tsawwassen, Ladner region.
Hiking Trails and Tales : There are hiking trails throughout Delta, Tsawwassen, Ladner exploring urban forests, ocean coastline, wetlands, bogs, marshes, sandy spits, mud flats, dykes, river estuaries and sandy beaches which lead to lookout towers, viewpoints, playgrounds, nature houses and day use picnic sites. Most are level and suitable for all ages.
Artful Thinking : There are art studios and art galleries in the region with paintings, carvings, sculptures and crafts on display and for sale.
Pick up a Paddle : Come paddle Ladner Marsh, Strait of Georgia, Canoe Pass, South Arm Marshes Wildlife Management Area, Deas Slough, Fraser River and any of the other waterways when in Ladner, Delta and Tsawwassen. Bring your own kayak or canoe or sign up for a tour with an interpretive guide.
Saddle Up : Explore the many horseback riding trails in the Delta, Tsawwassen and Ladner region. Some explore ocean coastlines, others forest and wetlands following on top of dykes with birdwatching opportunities.
Mountain Biking without Mountains : Hit the dirt trails connecting parks, forests, wetlands and waterfronts in the region. Find the teeter-totters, ramps, ladder bridges, skinnies, drop offs, gaps and tabletops.
Cycling Pavement : The roads are flat, shoulders are wide, dykes are everywhere, country roads are maintained and trails are well marked. Why not bring your road bike and try the Ladner Trunk Road Connector, Boundary Bay Greenway or Boundary Bay Regional Park.
Follow Historic Footsteps : Visit a museum or a park with historic sites like the 905 Burvilla (heritage home), 1909 Inverholme Schoolhouse and the 1899 Agricultural Hall in Deas Island Park.
Sips and U-Picks : Take a self guided tour visiting some of the local farm markets and u-pick farms. Try to pick more than you eat. Or visit a local winery and sign up for a wine tasting tour.
Treat your Palette : The region of Delta, Tsawwassen, Ladner is populated with dine in restaurants, fast food and fine dining establishments. Try some of the local cuisine.
Picnic in a Park: Pack a lunch and plan a visit to one of the day use areas in any of the parks in the region. Lots of areas to snack and pack when in Delta, Tsawwassen, Ladner, BC, Canada.
Swing a Club : Pack up the clubs and try your luck at one of the local golf courses or driving ranges in Delta, Tsawwassen, Ladner.
Explore Ladner, Delta and Tsawwassen, BC, Canada.