11 Top Things To Do on Quadra Island,
Discovery Islands, Gulf Islands, BC, Canada
The Top 11 Things To Do on Quadra Island, British Columbia, Canada located on the east coast of Vancouver Island in the Discovery Islands, Gulf Island B.C. Region.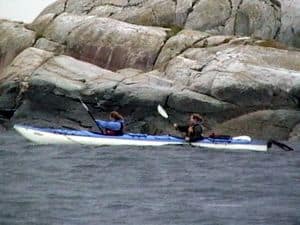 Sightseeing. Sightseeing includes marine views when visiting Rebecca Spit Provincial Marine Park or the Cape Mudge Lighthouse. There are mountain sightseeing viewpoints overlooking islands like when exploring on the Chinese Mountains Hiking Trail and the Beech Mountain Trail. Boating and sailing views can be enjoyed from the village of Heriot Bay.
Beachcombing. There are some amazing sandy beaches on Quadra Island ideal for beachcombing, picnicking and sightseeing. The beaches located in the Rebecca Spit Provincial Marine Park and the beaches near the Cape Mudge Lighthouse are very popular.
Sea Kayaking. Launching a kayak from Quadra Island puts you within reach of some great day and overnight kayaking destinations. Some of the day kayaks include Octopus Islands, the Small Inlet Marine Park and the coastline of Cortes Island. Some of the multi-day overnight kayak adventures include the Discovery Islands and Desolation Sound. There are kayak tour companies operating on the island.
Canoeing. There are lakes to canoe on Quadra. Canoeing is enjoyed in the Main Lake Provincial Park. There is a popular multi-day canoe route exploring the Main Lake chain of interconnected lakes which forms the largest freshwater waterway in the Gulf and Discovery Islands. Access from Village Bay Road.
Hiking and Walking Trails. There are many hiking trails on Quadra Island. Quadra is one of the better islands in the Gulf Islands for hiking trails. There are easy day hikes like the trails in Rebecca Spit Marine Park. There are a good number of challenging hiking trails leading to mountain viewpoints on Quadra like the Shellalligin Trail, Mount Seymour Trail, Maude Island Trail and the Beech Mountain Trail.
Road Cycling. In Hyacinthe Bay, the West Road loop route passes by farm fields and forests and is ideal for road cyclists.. and so are the roads leading down to Cape Mudge Lighthouse.
Mountain Biking. For the mountain bikers, the dirt roads and off-shoot trails located on the rural north end of the Island are best. From the dirt roads there are trails leading to mountain peaks and into forested valleys. Closer to the village are the Community Trails which are shared trails with hikers and horseback riders.
Birdwatching. Birdwatching is exceptional on Quadra Island especially if you have access to a boat. There are many marine parks in the area for birdwatching like Octopus Islands and the Small Inlet Marine Park. On Quadra Island birdwatching is good in the Main Lake Provincial Park area where there is an exceptional number of loons.
Sailing and Boating. Launching a boat from Quadra Island provides access to some popular overnight boating marine routes like the Discovery Islands and Desolation Sound. There are some day marine destinations closer to Quadra Island for exploring also like Read Island, Octopus Islands, Maurelle Island and the bays and inlets of Cortes Island. There are marinas in Heriot Bay and Quathiaski Cove.
Fishing. There are many areas to fish for salmon and halibut when visiting Quadra Island in particular around Cape Mudge, Copper Bluffs, Quathiaski Cove and near Rebecca Spit Park. Trout fishing is best in the Main Lakes Provincial Park. Boat launches are located near the villages and major parks. There are fishing charters operating on Quadra and in Campbell River on Vancouver Island.
Scuba Diving. There are artificial reefs, remote islands and protected coves located around Quadra Island popular for scuba diving. Some of the more popular destinations for diving include Copper Cliff, Whiskey Point, Grouse Island and Steep Island. There are scuba tour companies operating near Quadra Island.