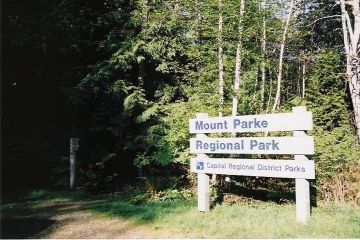 Park Size:
49 hectares
Difficulty:
Easy - Family
Park Amenities
:



Mount Parke Regional Park is the main hiking and mountain view park on Mayne Island, BC. Mayne Island is part of the Southern Gulf Islands Group situated on the west coast of British Columbia.

Mt. Parke Regional Park was established in 1991. The park is a forested mountain park measuring 49 hectares in size. Within the park are some loop hiking trails, a few picnicking viewpoints, pit toilets and lookouts.

The highlight of the park is a small network of loop hiking trails leading visitors to cliifside lookouts with far reaching views, rocky bluffs and birdwatching opportunities. The summit viewpoint is the most popular viewing destination measuring at 185 metres above sea level.

The trails in the park are easy grade with some including uphill hiking. The main 1.7 kilometre hiking trail is a fairly level, easy grade loop trail. The trail is very west coast with forests of ferns, deadfall trees, moss, alder, arbutus and cedar trees.

The more uphill hiking destinations include the 600 metre long Old Gulch Trail and the 200 metre Viewpoint Trail. There is also a 2 kilometre loop hiking trail connecting Mount Parke Regional Park to Plumper Community Park.

The Mt. Parke Regional Park is a popular hiking destination for visitors because it is a chance to access easy views overlooking the Gulf Islands and the surrounding ocean channels. Some of the landmarks viewed from the mountain include Saturna Island, North Pender Island and Plumper Sound.

Mt. Parke Park, Mayne Island, Gulf Islands, BC, Canada
Address:
Mount Parke Regional Park
How To Get ToMount Parke Regional Park
:
How to Get Here:
Travel to Mayne Island in the Southern Gulf Islands off the west coast of British Columbia, Canada. From the Village Bay BC Ferry Terminal on the Mayne Island travel on Village Bay Road to Miners Bay Dock. Turn onto Fernhill Road and continue traveling east just pass the school and turn onto the gravel road named Montrose Road. Follow Montrose Road to the park.

The hiking trails can be accessed from the back end of the park from Plumper Community Park and from Kim Road.
No reviews yet for Mount Parke Regional Park.