8 Top Things To Do on Gabriola Island
Gulf Islands, BC, Canada
The Top 8 Things To Do on Gabriola Island, British Columbia, Canada located on the east coast of Vancouver Island in the Gulf Island B.C. Region.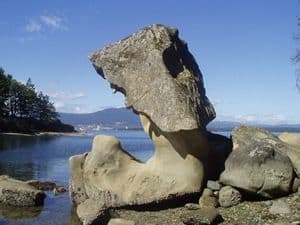 Ocean Kayaking. There are many bays and islands to paddle on and near Gabriola Island. Some islands to explore include Mudge, Newcastle and Entrance Islands. Some of the coves and bays to paddle include Taylor, Pilot, Lock, Silva and Degnen.
Boating & Sailing. Silva Bay and Degnen Bay provide moorage for boaters when visiting Gabriola Island. The island is located on two busy marine routes - the Strait of Georgia and Northumberland Channel.
Beachcombing. Gabriola Island enjoys some fine sandy and rocky beaches. They include Berry Point Lock Out, Brickyard Beach, Descanso Bay, Degnen Bay, Drumbeg Park, Sandwell Park and the Gabriola Sands Park.
Birdwatching. Birdwatching includes sea birds and predator birds. From the parks and ocean bays on Gabriola Island there are birding opportunities.
Hiking. The island enjoys both long and short hiking trails. Some of the better hiking trails are the Gabriola Sands Provincial Park to Orlebar Point, Malaspina Galleries to Twin Beaches, Drumbeg Provincial Park Trail and the Descanso Bay Park Trail.
Sightseeing. Gabriola Island enjoys a large selection of petroglyphs and sculptured sandstone rocks. Hike down to Jack Point, Lock Bay and Degnen Bay for petroglyphs. Check our Malaspina Galleries and Sandwell Provincial Park for sculptured sandstone rocks.
Scuba Diving. There are many coves, bays and waterways to dive near Gabriola Island. Orlebar Point and the Gabriola Passage are good dive sites. Gabriola Passage is a dive site with sea cucumbers, urchins, rock scallops, huge ling cod, tiger rockfish, yelloweye rockfish and octopuses.
Sports Fishing. Salmon, Halibut and Rock Cod. Fishing spots include reefs near Thrasher and Entrance Islands. Fishing Charters and tour boats operate in the region.