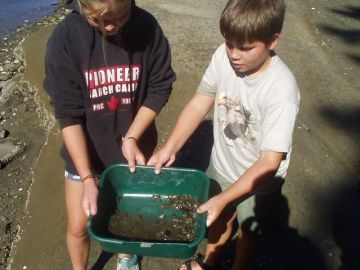 Park Size:
6 hectares
Trail Length:
4 km
Difficulty:
Easy - Family
Park Amenities
:



Gabriola Sands Provincial Park is a day use park located on the northwest tip of Gabriola Island on the west coast of British Columbia, Canada. The day use park is a popular beach and sightseeing recreation destination.

The Gabriola Sands Provincial Park measures 6 hectares in size. The park features include two sandy beaches, a picnic area and some giant limestone rock formations shaped by time and the west coast winds and ocean storms.

There are far reaching marine views when visiting the park. From the shoreline of the park one can see the community of Nanaimo, Newcastle Island and the Sunshine Coast. Off the coast, moored in the bays, are recreation boats, sailboats, yachts and kayaks.

The park isthmus is surrounded by two ocean bays - one on each side, each with a beach, each great for families and beachcombing. When facing the ocean Taylor Bay is on your left and Pilot Bay is on your right.

Taylor Bay beach connects to the Malaspina Galleries. The galleries are home to large rock formations. Malaspina Galleries was named after an 18th century explorer named Alejandro Malaspina.

The isthmus is a site for migrating and breeding birds therefore attracting many to the park for birdwatching. Some of the other activities enjoyed in the park include picnicking, swimming, birdwatching, sightseeing, swimming and kayaking.

There is a 4 kilometre one way hiking route that connects Orlebar Point with Gabriola Sands Provincial Parks. From Gabriola Sands Park the hiking route follows a rocky shoreline, navigating sandstone rocks before reaching Orlebar Point. The hike should be enjoyed at low tides.

Gabriola Sands Provincial Park includes a picnic area. There are picnic tables, change rooms and pit toilets. Across the street is a baseball diamond, a playground and some more picnic tables.

Gabriola Sands Provincial Park, Gabriola Island, Gulf Islands, BC, Canada
Address:
Gabriola Sands Provincial Park
How To Get ToGabriola Sands Provincial Park
:
How to Get Here:
From the BC Ferry Terminal on Gabriola Island turn left on Taylor Bay Road. Continue traveling on Taylor Bay Road to Decourcy Drive. Follow the signs to the park parking lot.
No reviews yet for Gabriola Sands Provincial Park.