Merritt BC Fundraiser – The Life of Izzy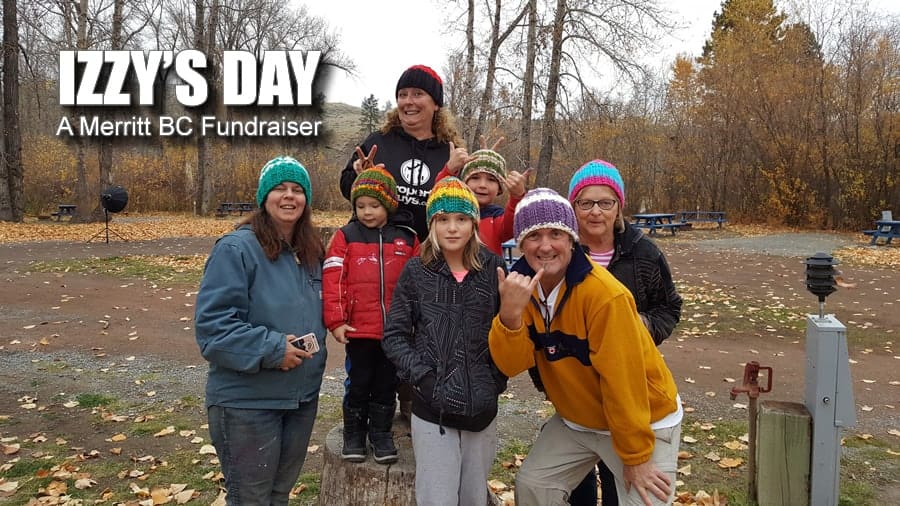 Merritt BC Canada Fundraiser
Julie Pollard wanted to make a difference in one child's life so she did.
"There were beautiful photos taken, a toque-off , a rigged voting process for best rock art painting (just my opinion) and a fungi (fun guy) award too!"
You can still donate in Merritt and online. Information posted below at the end of this blog post. PLEASE HELP.
Why a Merritt BC Canada fundraiser? Simple. Because people have to step up for good people who are going through hard times. Seems like the right thing to do. Yesterday Julie Pollard of Merritt Pro Photo held an impromptu fundraiser to raise money for 12 year old Izzy in an effort to help cover her staggering medical costs. I was honored to be invited and attend.
Julie was onsite providing professional pet and family outdoor portraits for free while accepting donations to assist Izzy with her fight. Julie invited all to come to the Moon Shadows Campground in Merritt BC Canada for a day of children games, rock painting, bonfire, hot dogs, live music and marshmallow S'mores. Most importantly, Izzy was happy and there were beautiful photos taken by Julie Pollard creating memories all day. Then there was a toque-off, a rigged voting process for best rock art painting (that is how I saw it) and a fungi (fun guy) award too!
Who is Izzy?
Izzy is our friend, our neighbor and an inspiration to many of us who are staying in the campground for the winter. She has been sick since she was born and by all accounts it is a miracle as doctors did not give her a long lifeline. Izzy has a neurogenic bowel and bladder disorder. Her bladder and bowel do not empty proper due to her left kidney has reflux. She has a cecostomy and mytroffanoff . Cecostomy is a tube in her colon that we push enema and saline into every two days which helps her poop. A mitroffanoff is a channel from bladder to belly button that she inserts a catheter into every 2 hours to pee. She takes 3 meds a day. Izzy is a SUPER HERO.
Being Izzy requires a lot of medical attention. No child's life should be dealt such a heavy burden at such a young age. But today was a good day for Izzy. Today she was a child free to play, laugh, smile and be happy. As a result, if only for only a brief moment, the pains and discomforts had washed away from her mind and she could live a child's life of rainbows and unicorns.
Life Lessons from Izzy
Every once in a while you meet a person who reminds you what is important in life. Someone who can help you see pass the fog just enough so you press the reset button on life's priorities. My neighbor Izzy is one of those people. Her positive attitude, refusal to quit and pure determination make our problems look like a joke in comparison.
Canadians Helping Canadians
Friends helping friends. Canadians helping Canadians. People helping people. That is how I was brought up. Seems like with all the hate in the world one does wonder what happened to "kindness". The continuous barrage of sad, mad and bad news stories spamming our air waves is so mind numbing. It was refreshing to be around people thinking good thoughts and doing good things. It was an honor to be invited to this Merritt BC Canada fundraiser.
Rock Painting Therapy
Everyone who attended the Merritt BC fundraiser was encouraged to paint a rock. It is an idea credited to the good people at "Hey where's my rock now" on Facebook. It is because of their love for life that we are able to help others live a better life. At Izzy's fundraiser both kids and parents alike sat down and let their creativity flow. Yours truly even sat down and created a masterful piece of art. At least I thought so?
The Art of Painting a Sock Monkey Masterpiece
To be honest my rock painting started out as a moose. I am entitled to change my mind. But… after some ribbing by the peanut gallery, I started to focus my talents and my moose morphed into what soon became known as a Sock Monkey. From then on in it was controversy.
"A sock monkey is a stuffed toy made from socks fashioned in the likeness of a monkey. These stuffed animals are a mixture of folk art and kitsch in the cultures Canada. The typical sock monkey is grey and white with extra long limbs, a long tail and bright red lips" … from Wikipedia
An Artist was Born
I thought my Sock Monkey was a pure stroke of artistic brilliance on my part. Such beautiful lines, use of texture and colors, I was so proud of my rock. However, with great talent comes critics. I was hearing whispers that my Sock Monkey was not up to snuff, and furthermore, I was looking through some rose colored glasses. What are these people thinking? Finally, I clued in that the loudest of the ribbing came from the host of the Moon Shadows Campground, Melvina White. Melvina played the safe card and painted a forest on her rock. Whoop-de-do! How tough is painting a tree anyway? I went for detail and raw talent.
The ART-OFF at the Merritt BC Fundraiser
My friend Izzy kept reminding me that my brilliant art work was second to Ms. White. Then Izzy informed me it dropped down to #32 out of #32 rocks. In the heat of the ART-OFF I stood up and made a challenge. Lets vote! Ms. White's simple-little-piddly-forest-scene rock painting against my bold and masterful Sock Monkey. Furthermore the contest and tabulation of the votes were being conducted by our very own Super Hero, Izzy.
"Great," I thought, "I got this in the bag!"
The VOTES are in
The anticipation was unbearable. The votes were tabulated. The announcement made. "I got this," I said.
Ali McDougall, the tabulators of tabulators, sauntered towards me and Ms. White with the results of the voting. As the numbers were being announced I could feel the glory of it all. Ms. White is going down! Is that sweat on her forehead?
I was crushed. What just happened here? There must be some vote rigging going on? The result… well, I lost by a landslide. How can that be? I came to the obvious conclusion that the voting public does not know art when they see it.
eh TOQUE OFF
The sunshine days soon turned into cool evenings resulting in the eh Canada "Mom Toques" making an appearance. In this hood, these toques come out at night, covering heads and ears, providing a warm glow. We provided Izzy with a toque. My Mom would want it that way.
Looking around the campground there was some toque envy going around too so now people were piping up about the best toque. What is with these people? We had to have a Toque Off. We are still waiting for the results. As you can imagine I was not feeling that confident about the voting system around here based on the rock vote. Rumors are that one campground host is trying to stir up controversy. Bra-ha-ha-ha-ha. The purple one is mine!
Fun Guy (fungi) Award
As night closed in, we all gathered around the bonfire to swap stories, laugh and talk about the days events. Then suddenly, as people were sitting around the bonfire, just before we all went home, I was presented with the "#1 Fungi (Fun Guy) Award". Yup that is a mushroom in the photo. This is an honor… right?
A Great Day for Izzy
Joking aside… the day was spectacular. I can only wish all of Merritt BC could of participated in all the fun. Because it was a day of fun. A day for Izzy. A day for all of us to re-evaluate our priorities in our lives and be thankful for friends and family.
"Super Heros like Izzy remind us every day to be better people"
Drop off donations and online donations are still being accepted. How to donate below.
Merritt Donations
Property Guys
2001 Voght Street
250-280-8888
Community Futures
2185B Voght Street
250-378-3923
Out-Of-Town e-transfer Donations
send to jvankoll@propertyguys.com
Meet Izzy Video
PS… why all the pink in this Blog post? Pink is the favorite color of Izzy.
---
Follow us on our website and social media for daily updates and some ehCanadaTravel.com highlights.
Canadian Travel Influencer post by :



As Seen On:
CBC, Huffington Post, Canada.com, Nature Conservancy of Canada, Cottage Life Magazine, TravelTV.com, Travel Industry Today, Yukon Life, TAPS Magazine, HUB Magazine

Head Office
ehCanadaTravel.com
54-120 Finholm Street N.
Parksville, BC, Canada, v9p 1J5
https://www.ehcanadatravel.com/blog/wp-content/uploads/2018/10/izzy-banner.jpg
506
900
Greg "Gug" Girard
https://www.ehcanadatravel.com/blog/wp-content/uploads/2020/01/ehcanada-logo-340x156-1.png
Greg "Gug" Girard
2018-10-29 00:19:13
2018-10-29 19:56:18
Merritt BC Fundraiser – The Life of Izzy