Sandcastle Competitions in Canada – List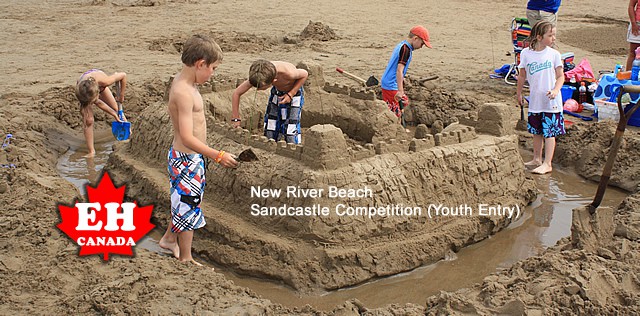 Sun, sand, surf and sandcastle. What is there not to like.
The sun is hot, the sand disappears in between my toes and the sea water splashes up my thighs.  My mind wanders as I walk the maze of sandcastles on the the sandy beaches in the New River Beach Provincial Park located in New Brunswick, Canada.
There is so much going on.  There are sooo many people.  What a great day for sandcastles!
Buckets are spewed across the beach, shovels are digging and sponges are polishing the sandy surfaces. You can see the creative sweat pouring off  the foreheads of the sculptors as they carve and mold their sandcastle masterpieces under a peek-a-boo hot sun.  It is game day for many sand sculptures of News Brunswick, Canada.
To my left and right are rows of castles, mythical figurines and artistic impressions made of sand – some with towers and bridges while others are crumbling under the pressure of the heat coming off the sun.
We spent our afternoon watching, taking pictures and admiring the sand art under construction in the New River Beach Provincial Park. All around Canada this summer – on many of the sandy beaches – there are sand castle competitions being held.  Some are family oriented while others attract international competitors.
Our visit to the New River Beach sandcastle competition this weekend was a good time. The beach was packed, so much so, the cars lined the highway as the parking lot was full and spilling over.
Down on the beach the sandcastle competition was a family friendly affair. There were children, family groups and adult entries spread out all over the beach.
All entries had a steady stream of people mulling around taking pictures. The creators standing by – many grinning – proudly protecting their entries from the crowds of people.
Over head the music sounded off. Two large speakers hung over the beach provided by the local radio station. It was a nice touch as we enjoyed the beat of the music while walking the beat of the beach. Every once in a while people would get up to dance when their favorite song was being played. Even caught myself, shaking my booty on a few songs.
Here is a list of links to some of Canada's sandcastle competitions held during the summer season at some of our favorite beaches in Canada. Did we miss your favorite sand castle competition? Let us know ….
Parksville Beach, Parksville, BC : July 14th – 15th, 2012
Brackley Beach , Prince Edward Island : July 21st, 2012
Panmure Island, Prince Edward Island : July 28th, 2012
Davis Bay, Sunshine Coast, BC : July 5th, 2012
Grand Beach, Manitoba : August 11th, 2012
White Rock, BC : August 3rd-6th, 2012
Clam Harbour Beach, Nova Scotia : August 19th, 2012
Rissers Beach, Nova Scotia : July 14th, 2012
PNE Site in Vancouver, BC : August 19th, 2012
New River Beach, New Brunswick : July 28th, 2012
Lion's Beach, Manitouwadge, Ontario : July 1st, 2012
Sandy Hook Beach, Îles-de-la-Madeleine, Québec : August 10 to 12, 2012
https://www.ehcanadatravel.com/blog/wp-content/uploads/2012/07/new-river-beach-sandcastle.jpg
316
640
Greg "Gug" Girard
https://www.ehcanadatravel.com/blog/wp-content/uploads/2020/01/ehcanada-logo-340x156-1.png
Greg "Gug" Girard
2012-07-29 11:35:22
2012-07-29 11:39:49
Sandcastle Competitions in Canada – List