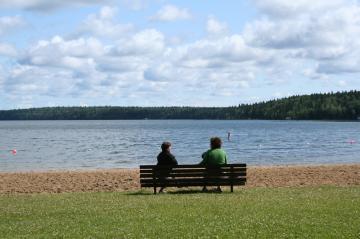 Park Amenities
:











Duck Mountain Provincial Park and the Duck Mountain Provincial Forest Site are two natural wilderness backcountry areas located in the Swan Valley - just south of the community of Swan River, Manitoba, Canada.

Duck Mountain Provincial Park is the main recreation destination in the area with camping, trails and lakes. While the Duck Mountain Provincial Forest Site is more of a sightseeing destination with scenic drives, hiking trails and an interpretive centre.

Both... Duck Mountain Provincial Park and the Duck Mountain Provincial Forest Site are home to many species of wildlife. There are sightseeing opportunities to view moose, fox, white-tailed deer, black bears, lynx, coyotes, timber wolves and many species of song birds, predator birds and waterfowl.

Duck Mountain Provincial Park

Duck Mountain Provincial Park is best known for its clear lakes, pristine rivers, mountain and many adventures. The park is part of the Manitoba Escarpment so there are many different eco systems including high elevation mountains, low lying wetlands, lakes, forests, meadows and river valleys.

Childs Lake, Singuish Lake, Wellman Lake and the Blue Lakes are the most popular recreation lakes in the Duck Mountain Provincial Park. Childs Lake, Blue Lakes and Wellman Lake provide the most services.

Childs Lake includes a campground, hiking trails, day use picnic site, playground, sandy beach, accommodations, restaurant, gas station, showers, canoe and boat rentals, boat launch, fish guiding companies, fish processing and fishing licenses.

Wellman Lake includes a campground, showers, tennis courts, gas station, convenience store, restaurant, sani dump, boat launch, day use picnic area, beach and accommodations.

Blue Lakes include a campground, canoe and boat rentals, playground, boat launch, hiking trails, day use picnic site, accommodations, convenience store, showers, beach, sani-dump, gas station and restaurant.

Singuish Lake includes a day use picnic area, boat launch and campground. Other lakes in the park with boat launches include Beautiful Lake, Gull Lake, Laurie Lake, Two Mile Lake and Glad Lake. The main campground and boat launch lakes are all easily accessed from the park road.

The lakes are a big attraction for many types of adventures in the Duck Mountain Provincial Park. In the summer months the lakes are destinations for activities like birdwatching, swimming, boating, water skiing, canoeing, kayaking, windsurfing, picnicking, scuba diving, camping and fishing.

Fishing in the park is for walleye, splake, perch, muskellunge, northern pike, whitefish, bass, arctic char, rainbow, lake, brown and brook trout. Be aware that some lakes in the park are electric motors only and some lakes are catch and release only. All fishing in the park requires a fishing license.

Canoeing is another adventure enjoyed in the Duck Mountain Park because of the designated canoe routes. The canoe paddle routes have portages, put in points and wilderness campsites. The Chain Lakes (5.8 km) and Beaver Lake (6.4 km) Canoe Routes are the two most paddled routes.

There are over 30 kilometre of recreation trails in the park - some are day hikes while others backcountry adventures. There are easy-going day hikes suitable for the whole family and there are challenging day hikes with steep elevations for the healthy hiker.

Some of the more popular day trails include the Shining Stone (1.1 km return); Blue Lakes (5.5 km return); Childs Lake Trails (2.0 km loop, 3.0 km loop and 2.5 km one-way); Copernicus (1.2 km); Glad Lake (3.8 km return); Shell River (4.5 km return); Spray Lake (3.5 km return) and Baldy Mountain (3 km return).

Day Trails like the Baldy Mountain and Copernicus Trails lead to wooden viewing towers. Baldy Mountain is the highest elevation mountain in Manitoba measuring 831 metres (2727 ft). The Baldy Mountain tower can be accessed by road as well as trail.

The more rugged and remote backcountry trails are the Mossberry Lake Trails. They are a network of trails exploring between Child's and Blue Lakes suitable for horseback riding, ATV, mountain biking, fishing, backpacking and wilderness backcountry camping.

During the winter months, after the lakes freeze over, the trails and lakes become cross country ski and snowmobile routes. The lakes transform into ice fishing destinations.

(XC) Cross Country Ski trails are maintained and groomed on Childs, Wellman and Glad Lakes. Snowmobile trails in the park explore far beyond the borders of the park connecting to communities like Roblin, Inglis and Grandview... and ultimately connecting to other parks like the Asessippi Provincial Park and the Porcupine Provincial Forests.

Duck Mountain Provincial Forest Site

The Duck Mountain Provincial Forest Site located in the Duck Mountain Provincial Park is a wilderness environment consisting of boreal forests, wildflower meadows, streams, creeks, wetlands and marsh.

The park is best explored via the 10 kilometres of hiking trails and the 6 kilometres of all season roads which travel throughout the forest environment. Located along the roads are view points and interpretive signs.

The Frank Marvin Visitor Centre in the Duck Mountain Provincial Forest Site is an information centre with historical artifacts, exhibits, a day use picnic site and access to 10 km of hiking trails.