John Daly Park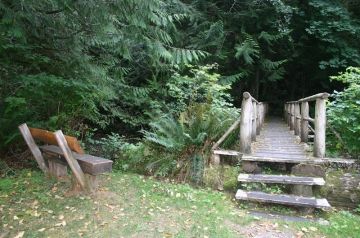 Detailed Description:
John Daly Park is a gathering place in the fall for wildlife and people watching. A day of entertainment surrounded by the autumn colours. The small Sunshine Coast park attracts families and friends who look forward to enjoying a day lounging by the Salmon Pond near the big grassy area having a picnic and, hopefully.. going for a short comfortable walk.

When the Coho and Chum Salmon return to spawn in Anderson Creek in John Daly Park, it attracts others to the area to feast like Bald Eagles, racoons and maybe ... a Black Bear too. Beware all new comers to BC, when fish spawn they die. An ending of life that creates a distinct smell, a dead fish smell.

The John Daly Trail is a short observatory walking trail to watch the Salmon spawning festivities. A wildlife event from September to late December. The warmer months is busy also with people enjoying the walk and river scenery.

This Sunshine Coast route starts after you cross the bridge and start your short walk along Anderson Creek, simple as that. Alternate scenery is taking a left before the bridge, explore the rugged hiking trail option, maybe muddy trail, and trek to the beach and Oyster Bay.

John Daly Park, Pender Harbour, BC, Sunshine Coast, Canada