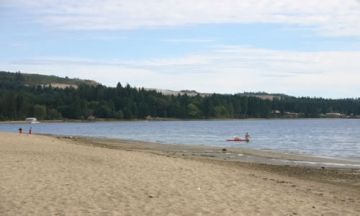 Park Size:
61 hectare
Park Amenities
:




Porpoise Bay Provincial Park is located nearest the community of Sechelt BC, on the Sunshine Coast. One of the more popular beach parks in the proximity of the community because of the many activities it caters to like camping, picnicking, swimming, launching a kayak and beach lounging on the sandy beach.

The Sunshine Coast waterfront 61 hectare Porpoise Bay Provincial Park is partly forested covered in fir, cedar, hemlock and maple trees in a protective cove. Boats sail by, floatplanes fly overhead, people wandering the beach and families picnic. The park's distinguishing feature is that it is disconnected from the Strait of Georgia by an isthmus (A narrow strip of land connecting two larger masses of land).

The main 2 km (1.2 mi.) Porpoise Bay Provincial Park hiking route follows Angus Creek. The Sunshine Coast trail extends to a bridge crossing over the creek leading all explorers to an estuary. From the viewpoints at the estuary there are opportunities to view migrating seabirds, lounging harbour seals and, even, Bald Eagles scouting the shoreline. .The trail should take approximately 1 - 1.5 hours to complete. In the late fall the Salmon arrive to spawn.

The Porpoise Bay Provincial Park has many of the day-use type amenities including a picnic area with two open picnic shelters, one change room, pit and flush toilets. Onsite there is some fresh water taps in the day-use and campground areas. The taps operate in peak season only. In the change room area there are hot showers for those sea cleansing moments.

The drive-in campsites tend to get filled up with RV campers and tenters. There is a park reservation system for peak periods. The sites do not have power or water servicing each site.

The walk-in campsites are for tenting only, so the campground attracts the mountain bikers, touring cyclists, backpackers and kayakers. If you have no vehicle to park, then the campsite is for you. The camping sites is an open area with no set campground layout, but can fit up to 11 tents and includes a community fire pit, picnic tables and a shower area with flush toilets.
Porpoise Bay Park, Sunshine Coast, Sechelt, British Columbia, Canada
Address:
Porpoise Bay Provincial Park
How To Get ToPorpoise Bay Provincial Park
:
How to Get Here:
Follow Hwy 101 in Sechelt, BC, to the traffic light at Wharf Street and take a right. A couple blocks down take another right on to Porpoise Bay Road. Continue for 4 km (2.5 mi.) and follow the signs to the park.
No reviews yet for Porpoise Bay Provincial Park.