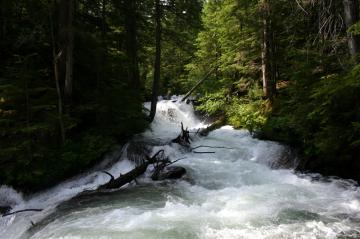 Trail Length:
2 kilometre
Difficulty:
Easy - Family
Park Amenities
:




Begbie Creek Trail is an easy-going 2 kilometre hiking trail leading to a waterfall, the shores of Upper Arrow Lake and some mountain climbing routes. The popular trail is located south of the community of Revelstoke, British Columbia, Canada on the west side of Upper Arrow Lake.

The Begbie Creek Trail is a multi purpose trail used by hikers, mountain bikers, mountain climbers and dog walkers.

The forested trail follows th eterrain of Begbie Creek. It is a hard packed earthy path, spotted with exposed tree roots and boulders. Bring good foot wear, as the rocks and trail can get really slippery in some sections because of the moisture and mist thrown onto the trail by Begbie Creek.

On your right there are some unmanaged paths leading down to the creek. Some provide safe views of the creek, others are just a waste of time. For the best hiking experience stay on the creek trail, it will take you to a connecting trail leading to Begbie Falls, Upper Arrow Lake and a viewing platform looking out over the falls.

The Begbie Creek Trail is part of a small network of trails in the area used by mountain bikers, hikers and cross country skiers. The trail network connects to Hwy 23, the MacPherson Mountain Trails and the Begbie Falls FSR (Forest Service Road).

Along the trail there are some off-shoot trails on your left leading to some popular bluffs often frequented by climbers. Bring your gear or, if you do not climb, binoculars and spot the climbers on the rocks!
Address:
Begbie Creek Trail
How To Get ToBegbie Creek Trail
:
How to Get Here:
Follow Highway 23 south from Revelstoke, BC for about 9 kilometres. Keep an eye out on your left (east side of the highway) for a small gravel parking lot. Driving from Revelstoke the trailhead sign is not easily seen. So be keen and keep a look out.

No reviews yet for Begbie Creek Trail.