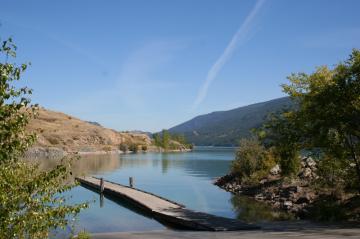 Park Size:
57 hectares
Park Amenities
:




Kekuli Bay Provincial Park is a hillside grassland park on the western shores of Kalamalka Lake located south of the community of Vernon, BC in the North Okanagan Valley.

Kekuli Bay Provincial Park covers over 57 hectares and was established in 1990. The grassland park is wide open with little tree cover. The activities enjoyed in the provincial park include birdwatching, hiking, canoeing, fishing, boating, camping, swimming and water skiing.

The lower hillside of the park is a campground dedicated to campers, tenters and RVs. The campsites include picnic tables, fire pits and provide little shade therefore are exposed to the sun. The campground is, especially, popular for boating, fishing and canoeing because of the paved boat launch located in the park, the long pier for launching a boat and the large gravel parking lot designated for boat trailers. The campground amenities include showers, power and flush toilets.

At the bottom of the hill, near the entrance, to the Kekuli Bay Park is a day use area with beautiful views and grass lawns. There are four picnic tables and a children's playground in the day use area. From the day use area there are views of Kalamalka Lake, the pier and the boat launch.

In the park is a 2.5 kilometre earthy-gravel walking path touring the grounds of the park. The path explores the grassland hills providing views of the valley and lake. Along the walking path is a few viewing benches.

It is important to note that an active railway runs through the park. So at scheduled times it can get loud with trains chugging on by.

Kekuli Bay Provincial Park, Vernon, BC in the Okanagan Valley
ADDRESS
Kekuli Bay Provincial Park
,