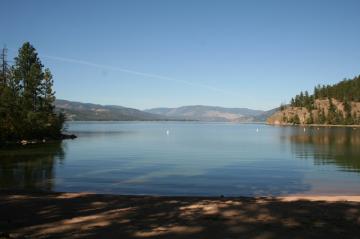 Park Size:
200 hectare
Park Amenities
:



Ellison Provincial Park is a very popular summer park located southwest of the community of Vernon, BC in the North Okanagan Valley. The recreation destination park is situated on the eastern shores of Okanagan Lake and is popular for swimming, boating, fishing, picnicking, camping and diving.

The 200 hectare Ellison Provincial Park is a two tiered park situated on a rocky slope located near Predator Ridge. The Okanagan forest in the park consists of lodgepole pine and douglas fir trees.

On the lower level tier, resting on the shores of Okanagan Lake are secluded coves named Otter Bay and South Bay. Both have picnic tables, a volleyball court, swimming area and a long sandy beach. A third beach, Sandy Beach, is a dog park. Be aware there is no boat launch in this park.

Higher up, on the top tier is a paved parking lot, a campground, flush toilets, showers, running water, an outdoor amphitheatre, a playground and a large grass lawn area. The campsites include picnic tables and fire pits. Connecting all the levels of the park together is a network of hiking trails.

Throughout the park is a small series of hiking trails adding up to 6 kilometres. Some of the walking paths are paved and others are gravel. Some paths are level while other paths are steep. Some of the trails are wheelchair accessible.

The Beach Trail is level and follows the shores of the lake while the Nature Trail climbs down the slope of the hillside from the main parking lot. Located on the walking paths are a few resting benches. And throughout the park are some pit toilets.

Ellison Provincial Park is home to Canada's first under water diving park. Many divers visit the park to explore the under water world of Okanagan Lake.

Ellison Provincial Park, Vernon, BC in the Okanagan Valley
Address:
Ellison Provincial Park
How To Get ToEllison Provincial Park
:
How to Get Here:
Travel north on Highway #97 towards the community of Vernon, BC. At the main intersection entering town (25th Ave) take a left and continue driving to the park entrance following the park signs.

No reviews yet for Ellison Provincial Park.