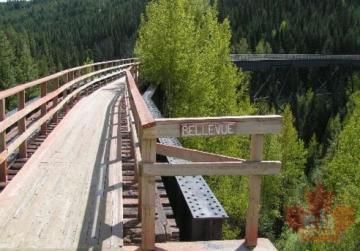 Trail Length:
600 kilometres
Park Amenities
:


KVR - Kettle Valley Rail Trail is an abandoned railway bed transformed into a recreation trail popular for exploring canyons, meadows, forests, lakes and rivers from Midway to Hope, BC, Canada. The KVR plays a big part in the British Columbia portion of the TCT (Trans Canada Trail).
The trail is over 600 kilometres in length and is a popular route for hiking, backpacking, mountain biking, horseback riding and dirt biking in the summer months. During the winter, some of the sections of the trail become cross country ski, snowmobile and snowshoe routes.

The Kettle Valley Railway was established in 1914 as a transportation route for goods and people from town to town throughout southern British Columbia, Canada. The transportation route was a difficult project to complete because of the harsh wilderness conditions forging through thick forests, blasting rocks and building wooden trestles connecting hillsides.

The trail has many access points along the route thus creating, both, many different day trips and multi day trips. Along the recreation KVR Trail are accommodations and various designated locations for camping. Some campgrounds are wilderness campsites while others are provincial campgrounds.

The Okanagan corridor section of the KVR between Midway (near Rock Creek) and Kelowna is a route filled with wooden trestles, mountain tunnels, Okanagan Valley scenery and historic sites like "rock ovens" and old foundations of railway stations.

The popular hiking and mountain biking route is considered an easy-going route with some hill climbing sections. Most of the route explores the backcountry hills from an elevation of 1100 to 4000 feet above sea level. The route is situated east of the Okanagan Valley communities.

There are two sections of the Okanagan Valley corridor of the KVR that seem to make the best day trips and get allot of attention. One is the 18 railway trestles in Myra Bellevue Canyon. And two being the scenery and downhill ride from Chute Lake to Penticton.

Kettle Valley Rail Trail, Okanagan Valley
Address:
KVR - Kettle Valley Rail Trail
How To Get ToKVR - Kettle Valley Rail Trail
:
How to Get Here:
South Access: Midway is located Rock Creek on Highway #3. The southern access point of the Kettle Valley Rail Trail is located near the Midway Museum. The trailhead is well marked. Trail updates and parking is available.
Middle Access: In Naramata, near Penticton, the trailhead access is located at the junction of Naramata Road, Arawawana Road and Smethhurst Road.
North Access: Near Kelowna, the most popular access point to the KVR is in the Myra Bellevue Provincial Park.

No reviews yet for KVR - Kettle Valley Rail Trail.