Pioneer Walkway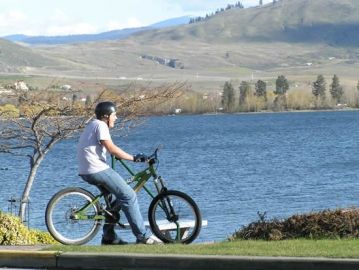 Park Amenities
:




Pioneer Walkway is a paved path located in the community of Osoyoos, British Columbia, Canada. The walkway explores the waterfront of the community while following the shores of Osoyoos Lake. The path is a transportation link for the locals and a sightseeing route for visitors.

Pioneer Walkway was created from the efforts of many locals. The path is a direct result of their hard work and years of planning. Together they created a lakefront walkway that connects the stores and motels of Osoyoos with the lake scenery.

Along Pioneer Walkway are gardens, shelters and viewing benches. Locals and visitors use the path often to get from point A to point B when in the community. Some people walk, others bike, some roller blade - all are enjoying the views.

The path also connects to one of the communities better known parks known as Cottonwood Park. The park is a main gathering spot in the summer months because of a sandy beach, boating and swimming.

Pioneer Walkway, Osoyoos, BC, Okanagan Valley