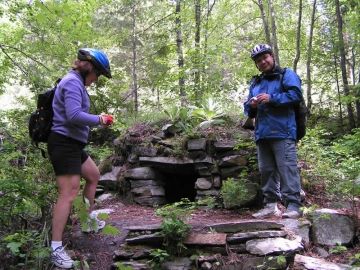 Park Amenities
:

Naramata, B.C. Rock Oven Regional Park is a collection of stone and rock ovens built between 1911 and 1915 located on the Kettle Valley Rail Trail (KVR) located near the community of Naramata, British Columbia, Canada in the Okanagan Valley.

The park is a collection of hiking trails leading to 10+ rock ovens which were built by the immigrant workers while building the Kettle Valley Railway. The rock ovens served as ovens to bake bread and feed the workers.

The Rock Oven Regional Park is accessed by hikers and mountain bikers only. No road access. The route along the KVR to the rock ovens includes two tunnels and should take 3-4 hours to reach when hiking.

From the trailhead on Smethhurst Road, the trail first leads explorers to Little Tunnel (rock tunnel and some great views). From the tunnel continue along the trail through the McCullough switchbacks and then to the regional park and the Adra Tunnel (collapsed rock tunnel).

This portion of the KVR Trail follows along clay cliffs and through ponderosa pine forests and hills covered in cactus and sage brush. The rock oven trails are identified by the pull-out areas along the KVR. A good collection of ovens are located near the Robinson Creek area.
Rock Oven Regional Park, Naramata, BC, Okanagan Valley
How To Get ToRock Oven Park
:
How to Get Here:
From the community of Penticton travel 15 kilometres along Naramata Road towards the community of Naramata. Once in town, travel Chute Lake Road until you reach Smethhurst Road. Turn here and continue for 1 -2 kilometres to a cattle guard and begin.
No reviews yet for Rock Oven Park.