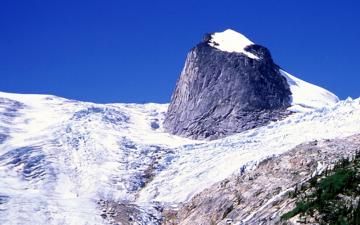 Park Size:
13,646 hectares
Park Amenities
:


Bugaboo Provincial Park is a summer backpacking, hiking, climbing and wilderness camping destination located in the Purcell Mountains west of the village of Radium Hot Springs in the Kootenays of British Columbia, Canada. This park is a wilderness park in the most real sense as there are no services and supplies in the park. Access is challenging. All services must be pre arranged before entering the park.

The Bugaboo Provincial Park covers over 13,646 hectares of remote wilderness forests, wildflower gardens, ice fields and glaciers. The remote wilderness park is most popular as a mountaineering and alpine climbing destination with peaks reaching over 915 metres (3000 ft.)

Experienced climbers arrive from all over the world for the opportunity to summit the Bugaboo's epic spires. Many helicopter in and some backpack in. The trails are very challenging and not maintained to any level of safety. This is no ordinary park. You have to know your back country stuff when embarking on the Bugaboos.

Climbers arrive for days to explore the summits. To minimize the impact on the terrain there is a base camp hut set up for climbers wishing to plan for for multi-day adventures - the hut is named the Conrad Kain Hut. The hut sleeps 35 and is equipped with heat, propane, water during the summer. The hut is not open for use in the winter because of avalanches.

In the Bugaboo Provincial Park there are hikes that do not require technical mountaineering skills. But... and a big but, these trails are for expert backpackers. There are not many trails but the Conrad Kain Hut and Cobalt Lake trails offer superb mountain and glacier views.

During the winter months one can snowmobile the gravel logging roads to the gate at the entrance of the park. But in the park there are no snowmobiles permitted. However in the park back country skiing - both heli skiing and xc skiing are permitted. For heli skiing access to mountain slopes one must book with a certified operator with permits to the park.

Bugaboo Provincial Park near Radium Hot Springs in British Columbia, Canada.
ADDRESS
Bugaboo Provincial Park
,