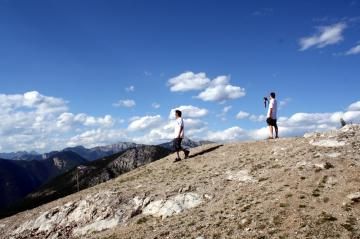 Trail Length:
0.5 kilometres
Difficulty:
Moderate
Park Amenities
:


Swansea Mountain is a hang gliding hot spot with 3 launch sites. For those who do not like to jump off mountains, Swansea is also the place to access to enjoy some far reaching views over looking the Columbia Valley. It is THE viewpoint of the area.

We are not joking, these views are epic. The mountain measures 1733 metres high and provides unobstructed views of the Stanford Range, Columbia Valley, Columbia River and the town of Invermere, BC.

If you are a two wheeled extreme explorer, Swansea Mountain and area is layered with many mountain biking trails for intermediate and expert bikers. In total there are 7 trails and they are all downhill.

To access the viewing summit one must travel a rough gravel road to the top. The road comes to an abrupt end with some parking. At the end of the road is a short 0.7 kilometre hiking trail up to the summit. The trail is elevated and is all uphill.

Once at that open mountain plateau the views of the entire valley will take your breath away. Barren of any trees one can walk to all corners of the summit and enjoy views. There is a picnic table at the top so you may as well bring a lumch and enjoy the views. Winds can pick up, so layer some clothing.

Swansea Mountain, Invermere, British Columbia, Canada
Address:
Swansea Mountain Lookout
How To Get ToSwansea Mountain Lookout
:
How to Get Here:
To access Mount Swansea one must travel a rough gravel road. Trucks or SUVs with substantial ground clearance are recommended to access the summit. From the crossroads of Invermere and Hwy 93/95 travel south about 2.5 kms to the Windermere Loop Road. Take a left and cross the Swansea Road. Continue for another 3.2 kms where a left turn will take you over the Westroc Gypsum Mine Haul Road and then onto Mt. Swansea Forest Service Road and continue for another 5 kns to the parking area.
No reviews yet for Swansea Mountain Lookout.