Schikurski Park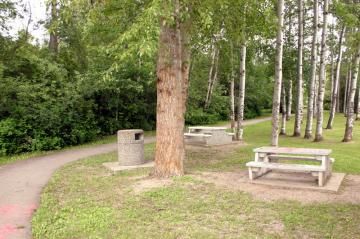 Detailed Description:
Schikurski Park is a small community park located in the heart of Creston, BC which is in the Kootenay region of British Columbia, Canada. The neighborhood park is a destination for many in the area who enjoy short walks, reading books and picnicking. Being close to neighborhoods, the park is popular for seniors

Schikurski Park consists of large green lawns, looming trees providing shade and a few flower gardens blooming in colors. The main highlights of the park are the walkway trails, small stream and the looming trees.

The walkway connects to picnic tables and is lined with sitting benches. Some benches are under shaded trees for resting while others are in the open for enjoying the views.
Schikurski Park , Creston, BC, Canada in the Kootenays