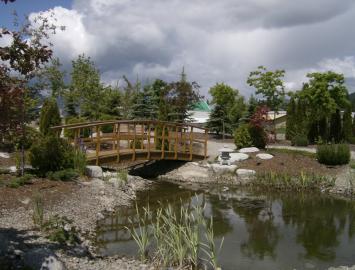 Park Amenities
:









Millennium Park is one of the newer parks in the community of Creston, BC which is in the Kootenay region of British Columbia, Canada. The park was opened in 2004 and is one of the more popular parks in the area because of the flower gardens, outdoor theatre and well maintained green lawns.

The Millennium Park attracts the young and old to the area. The walkways in the park provides a good route to explore the park. Follow the path, which is lined with wooden benches, to a beautiful Japanese Garden and to an outdoor bandstand theatre.

The Japanese garden in the Millennium Park seems to be the big draw. It is said the gardens were a donation to Creston, BC from their Japanese sister city, Kaminoho. The gardens do brighten up the park with flowers blooming rainbow colors like oranges, yellows and reds. The parks includes a wooden bridge crossing over a koi fish pond, sitting benches, fountains and statues.

The bandstand theatre is a common site for celebrations and special events in the community. Because of the theatre and the many colors of the flower gardens, the Millennium Park is commonly used for weddings, graduations and outdoor concerts.

Millennium Park, Creston, BC, Canada in the Kootenays
How To Get ToMillennium Park
:
How to Get Here:
Travel Highway #3 to the community of Creston, BC. Once in Creston turn south onto 16 Avenue and continue traveling south. On your right park in the parking lot of the local library. Millennium Park is right next door.

No reviews yet for Millennium Park.